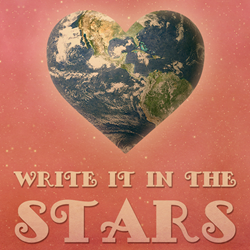 In the end, the messages will turn into a beautiful shooting star.
Leuven, Belgium (PRWEB) February 03, 2015
Valentine's Day, that special day reserved to express your love to that very special person, now truly reaches to the stars. WriteItInTheStars.com presents a unique way to show your love by launching the Valentine messages of people from all around the world in space.
From space, with love
On Valentine's day, millions of cards with messages of love are exchanged all around the world. But every year again, many struggle to find an original gift for their loved ones.
The people behind WriteItInTheStars.com must know that feeling, because they provide romantic souls with a never-seen-before opportunity to express their love. On their website (http://writeitinthestars.com), people can shout out their love for the entire world to hear.
Love written in the stars
The Valentine's messages submitted on WriteItInTheStars.com will be sent into Space on board of a satellite. Once the Valentine messages are in orbit, they will go around the world every 90 minutes and will eventually pass over every place on Earth.
"This is the first time you can literally write your love in the stars.", says co-founder of WriteItInTheStars.com, Maarten Decat. "It's a great way to express your everlasting love, as the messages will remain in space and on our website for years to come."
The launch of the messages is currently scheduled in the first quarter of 2016 from the launch site of Alcântara in Brazil.
A shooting star
After a couple of years, the satellite holding the messages will re-enter into the atmosphere and burn up. As Maarten puts it: "In the end, your message will turn into a beautiful shooting star."
Old-fashioned romance
A Valentine message in Space doesn't mean you have to miss the old-fashioned romance of handing over a real card. Therefore, your Valentine's message in space comes with a print out version of one of five unique designs that can be downloaded from the WriteitintheStars.com site, to be offered to that precious person you love.