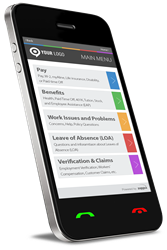 Whenever possible, customers want to buy products and handle issues without agent intervention. That's why we built our Visual IVR self-service platform; so that companies can provide a self-help option in the context of a customer service interaction
Boston, MA (PRWEB) August 13, 2015
Zappix, a leading Visual IVR platform provider, announced today new self-service features allowing customers to resolve their own problems before calling customer service. These features are easily accessible while on hold for customer service and even after a session with a Customer Service Representative.
With these new capabilities, Zappix reduces support ticket volumes and the burden on a company's customer service team. This solution enables a smooth Customer Service experience by answering customer service issues as quickly as possible.
"Today's customers prefer to help themselves as they have become more tech-savvy and less patient when it comes to receiving customer support," said Zappix Chairman, Avner Schneur. "Whenever possible, customers want to buy products and handle issues without agent intervention. That's why we built our Visual IVR self-service platform; so that companies can provide a self-help option in the context of a customer service interaction."
The self-service technologies offered by Zappix benefit both customers and companies. While companies gain a cost-effective alternative to live agent support, customers are empowered to solve problems effectively on their own. Recent research supports this approach, showing that 72% of customers prefer self-service options for resolving support issues over picking up the phone or sending an email.
The easy-to-use, Omni Channel technology of the Zappix Visual IVR platform places self-service—the ability to quickly explore any data available and get answers immediately—at a customer's fingertips. Information and self-help are delivered securely and efficiently on virtually any customer service topic. Business call centers benefit, too through the ability of Zappix to substantially reduce agent support costs, improve customer service job satisfaction and increase a company's Net Promoter Score™ (NPS).
"It all comes down to providing companies and their customers fast, easy and secure access to customer service resolution via cross-platform assistance options that are both live and automated," said Zappix Vice President of Marketing, Gal Steinberg. "The Zappix Visual IVR solution is able to deliver such self-service resolutions at little cost and with no IT involvement thanks to a robust, mobile smartphone app that works with Android, iPhone and Web platforms."
In one self-help, highly intuitive, Visual IVR app, Zappix integrates voice and non-voice visual content with customer service channels that include phone (voice), web, mobile online forms, and multi-media (audio or video) resources. Consequently, companies can realize significant savings in app development costs while simultaneously improving agent/customer interactions and customer outcomes, all due to the greater automation, self-service, around-the-clock accessibility and enhanced mobile/web convenience of Zappix.
The Zappix Visual IVR platform's ability to deliver cost-effective benefits for companies as well as a rapidly deployed and extremely interactive customer care experience derive from it being a Cloud-based, SaaS (Software as a Service) solution for web or cross-OS mobile app, omni-channel, customer service communications. Continuing to grow rapidly, the Zappix solution currently provides hundreds of companies with a streamlined way to empower and better serve customers. Zappix-supported organizations now include insurance companies, utility companies, banks, internet and mobile service providers, retailers, airlines and government agencies.
For more information about Zappix, visit http://www.zappix.com or contact Gal Steinberg, Vice President of Marketing at 781.214.8124; gal.steinberg(at)zappix(dot)com.