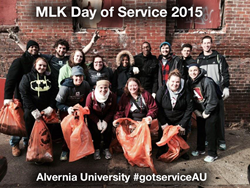 These efforts ensure our students are well trained to make a positive difference in the world after they graduate.
Reading, PA (PRWEB) January 25, 2015
One of only four schools in Pa., and 43 nationally, to be placed on the President's Honor Roll for interfaith work, Alvernia University in Reading, Pa., is also one of only 23 institutions in the state recognized by the Carnegie Foundation for a strong commitment to community service.
Earning placement on the President's Higher Education "Interfaith Community Service" Honor Roll with Distinction for 2014 (one of only four institutions in Pa., – and only 43 across the country honored), Alvernia University also received Honor Roll recognition in the categories of "General Community Service" and "Education."
The President's Honor Roll distinction is the highest federal recognition that colleges and universities can receive for community service, service-learning, and civic engagement. Other schools receiving honor roll recognition this year include Duke, Georgetown and Stanford universities. Alvernia University has appeared on the honor roll every year since the award's inception in 2006.
In addition, the Carnegie Foundation announced that Alvernia has been selected as one of only 23 institutions in Pa., and 361 across the nation to receive its newest Community Engagement Classification. Carnegie's 10-year classification recognizes a commitment to community engagement and reaffirms institutional commitment to deepen the practice of service and to further strengthen bonds between campus and community.
Carnegie labeled several of Alvernia's endeavors as "excellent," including alignment among campus mission, culture, leadership, resources, and practices that support dynamic and noteworthy community engagement. The foundation also said that the university showed "exemplary institutionalized practices of community engagement."
One hundred percent of Alvernia graduates participate in some form of community service, and last year, students volunteered a combined 33,000 hours.
"Alvernia continues to integrate community service and civic engagement throughout the university. These efforts ensure our students are well trained to make a positive difference in the world after they graduate," said Alvernia President Thomas F. Flynn.
And Alvernia's interfaith efforts include a broad range of activities and programs that promote inter-religious and intercultural dialog, says Flynn. "All too often, religion is used to divide not unite us. Interfaith dialogue, grounded in mutual understanding of our own faith traditions and those of others, is a process of exploring and discussing differences and shared values with respect."
Alvernia's Holleran Center for Community Engagement is a proven leader in service, working to pair college students with community partners for meaningful projects, including several annual, large-scale Days of Service, sustainable farming and constant mentoring of inner city children through the South Reading Youth Initiative.
"These schools are inspiring young leaders to roll up their sleeves and work alongside community members to solve problems," said Wendy Spencer, CEO of the Corporation for National and Community Service. "By recognizing the institutions who are leading the way to achieve meaningful, measurable results for the communities they serve, we also highlight the vital role all colleges and universities play in addressing community challenges and placing more students on a lifelong path of civic engagement."
ALVERNIA is a thriving university that empowers students through real-world learning to discover their passion for life, while providing the education to turn what they love into lifetimes of career success and personal fulfillment, helping them make the world a better place. Situated on a scenic 121-acre suburban campus in historic Berks County, Pa., the university of more than 3,000 students is conveniently located near Philadelphia (60 miles) and within an easy drive of New York, Baltimore and Washington, D.C. With a College of Arts and Sciences and College of Professional Studies, Alvernia today offers more than 50 undergraduate majors and minors and a range of graduate programs at the master's and doctoral levels through its School of Graduate and Adult Education. Satellite sites are located in Philadelphia and Schuylkill County. As one of only 22 Franciscan institutions in the country, Alvernia's focus on caring for each other, the environment and the community are joined with a challenging educational experience to provide an unparalleled environment to grow, develop and mature as a person and professional.