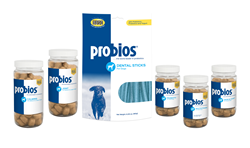 The new products combine the benefits of probiotics with other functional ingredients for all-around well-being.
Menomonie, WI (PRWEB) February 25, 2015
New soft chew supplements and dental sticks join the family of probiotic supplements for dogs and horses from Probios. The extension to the trusted line of products combines the benefits of probiotics with other functional ingredients for all-around well-being in a soft chew with the delicious flavor of yogurt.
Probios introduces:
Dental sticks
Yogurt Joint soft chews
Yogurt Probiotic soft chews
Yogurt Skin & Coat soft chews
Yogurt Multivitamin soft chews
Yogurt Calming soft chews
The new products contain the same research-proven strains of beneficial bacteria as other Probios products for dogs. Probiotics are recommended to support healthy appetite and digestion in dogs of all ages. With the combined benefits of probiotics plus prebiotics, targeted vitamins, minerals, and herbs, these soft chews make for a convenient nutritional supplement that supports overall health.
Dale Metz, director of companion animal business at Vets Plus said, "Pet parents recognize the health benefits of yogurt, and probiotics have the same digestion benefits for pets. By adding in these other functional ingredients, we're able to offer more convenient all-in-one supplement options."
Probios Dental Sticks also feature yogurt and support healthy digestion with prebiotics and probiotics. The mechanical action of chewing the blue bars helps to clean plaque from teeth. Metz said the dental market presents a growing opportunity for retailers as pet parents are taking a more proactive approach to keeping their pets' teeth healthy. "Dental sticks are popular because they are one of the most convenient ways to support oral health between veterinary visits," Metz said. "They not only clean teeth through the scraping action of chewing, but Probios Dental Sticks also have added nutritional benefit of probiotics and prebiotics."
Packaging for the chews and dental sticks will all feature a new look, as well. The entire Probios line—for companion and food animals—is undergoing a rebranding to update the image. Packaging will continue to feature the blue and white customers have come to recognize, but with a modern flair and color-coordinated icons that make it easy to identify the intended species. Probios soft chews are available in jars and the dental sticks will be sold in re-sealable bags.
Probios products are manufactured by Vets Plus, Inc., an audited member and preferred supplier of the National Animal Supplement Council (NASC), under license from Chr. Hansen, Inc. Visit Vets Plus at Global Pet Expo booth #3775 for more information.
High-resolution images available upon request.
About Vets Plus, Inc.
Vets Plus, Inc. (VPI), located in Menomonie, Wisconsin, is a leading manufacturer of health and nutritional supplements for both food and companion animals. With over 20 years of experience, Vets Plus creates custom formulations for contract manufacturing of innovative probiotic, prebiotic, nutritional, and nutraceutical products in a wide variety of feeding forms. Vets Plus is proud of its continued growth into a leader within the animal health industry and ability to manufacture a wide range of products while maintaining SQF Code 7.2 Level 3, ISO-9001:2008, and NASC certifications. Vets Plus is a member of the National Animal Supplement Council (NASC), American Pet Products Association (APPA) and American Feed Industry Association (AFIA).