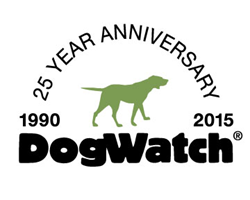 We are committed to providing smart products for today's pets," says King, "and tomorrow's pets, too.
Natick, Massachusetts (PRWEB) February 13, 2015
DogWatch, Inc., maker of the safest and most reliable hidden pet fence in the business, celebrates its 25th anniversary in 2015. In 1990, Fred King, DogWatch's Founder and President, had a problem - his family needed to keep their feisty pet cat Slapshot and her claws away from the new furniture in their living room. After looking at the options available, King saw an intriguing business opportunity, and set out to make a high quality, dependable and technologically advanced pet containment solution to meet the growing needs of pet owners like himself. "25 years later," says King, "DogWatch has grown into an international industry leader, and our Hidden Fence systems have given dogs across the country and the world the freedom to play outdoors safely."
"DogWatch products have stood out from the pack thanks to DogWatch's focus on safety, reliability and innovation," says King. DogWatch Hidden Fences have consistently received the Consumer Digest 'Best Buy' designation in each review of Pet-Containment products since 1998. In the 2014 Consumer Digest review, the DogWatch Hidden Fence was the only Pet-Containment brand recognized in the Premium category.
DogWatch Hidden Fence systems are the first and only hidden dog fences to use an FM frequency, a safer, more secure signal than AM. DogWatch's patented digital SafeLink® FM signal helps to protect pets from unintentional corrections that can happen on the AM frequency (such as from garage door openers, televisions, baby monitors, etc.). DogWatch Hidden Fences also have the longest battery life available. In addition to Outdoor Hidden Fences, DogWatch also has Indoor Boundary Systems to keep pets off the couch, out of the trash, off kitchen counters or - as in the case of Fred King's pet cat Slapshot - away from new furniture.
Several years ago, DogWatch introduced The BigLeash Remote Trainer. The BigLeash helps users teach and reinforce training commands such as 'come', 'stay', and 'heel'; and it can also be used to help correct your dog's unwanted behaviors. The BigLeash is the only remote trainer with two-way communication between the hand-held transmitter and the dog's receiver collar. This important feature helps users stay safely connected with their dogs via the visual range indicator that shows if the dog is going out of range. In 2014, both the original BigLeash S-15 and the BigLeash V-10 Vibration Trainer received a Family Choice Award recognizing each of them as one of the "best in Pet products and resources."
DogWatch's innovative products could not have "unleashed" hundreds of thousands of dogs since 1990 without passionate, hard-working DogWatch Dealers. DogWatch Hidden Fences are sold and installed only by authorized Dealerships. These local Dealers own their own business (not franchises), so they are committed to high quality and outstanding service. Beginning with a small network of traditional fence dealers, DogWatch Dealer numbers have risen to 237 Dealers in 46 states and 17 countries. Seven of these Dealers have been with DogWatch since the beginning, while others have passed down their business to another generation of the family.
"Our Dealers have grown as we have grown," says Dennis Manitsas, Vice President of Sales at DogWatch. "In the past 25 years, we've seen pet containment systems go from esoteric products to mainstream solutions for pet households everywhere." Manitsas points to DogWatch's Dealer support ethos as a key factor in the growth and quality of DogWatch's Dealer Network. "We're a high commitment service provider and supplier. DogWatch's Dealer support enables our Dealers to be successful entrepreneurs."
This past weekend, from Friday, February 6 to Sunday, February 8, 2015, a record number of DogWatch Dealers and employees gathered at the Hyatt Regency Lost Pines Resort near Austin, TX for the 2015 DogWatch Dealer Meeting. The annual conference provided a wonderful opportunity for Dealers to learn more about new DogWatch products, spend time catching up with each other, and share ideas. The 2015 Dealer Meeting was also an opportunity for DogWatch to celebrate the milestone anniversary and reflect on the past 25 years in the pet industry. "We look forward to helping many more dogs enjoy the freedom and safety that DogWatch Hidden Fences, Indoor Boundaries and Training Products can provide," says King. "We are committed to providing smart products for today's pets, and tomorrow's pets, too."
About DogWatch
DogWatch, Inc. is the maker of the most reliable pet containment systems in the business. Since 1990, DogWatch has been keeping pets happy and safe with innovative pet containment and training solutions that protect pets while allowing them the freedom to play outdoors. DogWatch Hidden Fences have safety and convenience features not found in any other hidden or "invisible" dog fence. The corporate office in located in Natick, Massachusetts. More information about DogWatch is available at http://www.dogwatch.com.