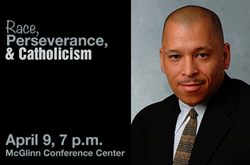 Reading, PA (PRWEB) April 01, 2015
The 2015 Hesburgh Lecture on Alvernia University's main campus will explore "Race, Perseverance, and Catholicism" with Notre Dame Political Science Professor Darren Davis. The event will be held on April 9, at 7 p.m., in the McGlinn Conference Center.
Each spring, Alvernia University hosts a Hesburgh Lecture, supported by the Notre Dame Club of Reading, that both embodies the university's core values and brings attention to topics that are relevant to today's local and global communities.
Hesburgh lectures are presented by Notre Dame faculty members on topics related to art, architecture, business, communications, contemporary social issues, economics, environment, ethics, government, history, law, social concerns and many more.
Dr. Darren W. Davis is Associate Vice President for Research and Professor of Political Science at Notre Dame. Considered a prolific scholar in political behavior, public opinion, political psychology and racial politics, Darren W. Davis is nationally recognized for his research on political tolerance, the support for democratic values, subtle racism and the concern for social desirability. His scholarly research has appeared in the most prestigious journals in political science.
ALVERNIA is a thriving university that empowers students through real-world learning to discover their passion for life, while providing the education to turn what they love into lifetimes of career success and personal fulfillment, helping them make the world a better place. Situated on a scenic 121-acre suburban campus in historic Berks County, Pa., the university of more than 3,000 students is conveniently located near Philadelphia (60 miles) and within an easy drive of New York, Baltimore and Washington, D.C. With a College of Arts and Sciences and College of Professional Studies, Alvernia today offers more than 50 undergraduate majors and minors and a range of graduate programs at the master's and doctoral levels through its School of Graduate and Adult Education. Satellite sites are located in Philadelphia and Schuylkill County. As one of only 22 Franciscan institutions in the country, Alvernia's focus on caring for each other, the environment and the community are joined with a challenging educational experience to provide an unparalleled environment to grow, develop and mature as a person and professional.