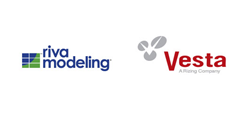 TORONTO, Ontario and STAMFORD, CT (PRWEB) March 09, 2015
Riva Modeling Systems, Inc. and Vesta Partners, LLC, today announced a partnership that teams the strengths of each company to transform asset management by delivering comprehensive long-term asset planning solutions to asset-intensive organizations around the world.
The partnership between Riva Modeling, a leading provider of software applications for long-term asset management, and Vesta, a globally recognized Asset Management consulting firm, aims to address industry challenges and redefine the way businesses approach asset management by combining Vesta's expertise with the computing power of the RivaAMP® application and SAP® Project Portfolio Management.
"Riva Modeling has worked within the SAP client eco-system for over 10 years. In that period, we have identified Vesta as the premium standard of EAM consultants for clients," said Rob Corazzola, Vice President Global Sales, Riva Modeling Systems. "Vesta not only understands the SAP products within the asset management space, but deeply understands the fundamentals and best practices in this critical area."
"With the advent of ISO 55000 and increasing oversight from external regulators, Vesta continues to reaffirm our focus on providing clients with the best asset management processes and solutions across the asset lifecycle," said Len Harms, Chief Strategy Officer, Vesta Partners. "By partnering with Riva Modeling, we are able to use the Riva® solution with SAP® PPM to help clients address growing requirements for a long-term asset planning process that integrates the asset register, asset health and the project portfolio."
The partnership will focus on delivering solutions to the following industries: power, gas, electric, water, public sector, transportation and rail. Vesta will serve as a global reseller of Riva, and develop and implement the Riva suite of applications in concert with the SAP platform.
To learn more about Riva Modeling Systems and its Riva platform, visit http://www.rivamodeling.com, contact: +1 866 945 7482 or email info(at)rivamodeling(dot)com. For information about Vesta Partners and its professional services, visit http://www.vestapartners.com, contact: +1 203 517 0400 or email info(at)vestapartners(dot)com.
About Riva Modeling Systems Inc.
Riva Modeling Systems delivers comprehensive and integrated software solutions that support long-range infrastructure asset management and capital planning. By bringing together data from various source systems including GIS, work management and financial systems, Riva technology provides organizations with complete and real-time information to assure plans are always current and up to date for up to 100 years. With offices and presence in North America, Europe and Australasia, Riva Modeling delivers solutions to asset intensive organizations worldwide.
About Vesta, a Rizing Company
Vesta Partners is a professional services firm focused on providing Asset Management solutions for customers in asset-intensive industries. As an SAP Services and Select Consulting Partner, Vesta's approach combines industry best practices with practical technology solutions to help customers track, manage and report on capital asset usage. In addition to its consulting services, Vesta offers proprietary software solutions addressing niche EAM demands. With offices located in North America, Europe and Asia Pacific, Vesta's real world experience and practical solutions deliver results that directly translate into efficiency improvements and real cost savings