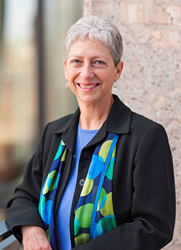 Reading, PA (PRWEB) May 01, 2015
Kate Wolford, president of The McKnight Foundation, will earn an Honorary Degree of Humane Letters before offering remarks to the Alvernia University Class of 2015 at Commencement, May 16, 2 p.m., to be held at Santander Arena.
The McKnight Foundation, a Minnesota-based family foundation, seeks to improve the quality of life for present and future generations through grant-making, collaboration, and strategic policy reform in the areas of art, education, environment, communities, agricultural research and neuroscience research.
Kate Wolford became president of The McKnight Foundation in Dec. 2006.
Under Wolford's leadership, The McKnight Foundation has used data, trends and patterns to build its mission and goals, and to strategize new ways to optimize the foundation's impact in the community.
Wolford earned a Bachelor of Arts in history from Gettysburg College, a Master of Arts in public policy from the University of Chicago, and a Master of Arts from the Divinity School of the University of Chicago.
In addition to her work with The McKnight Foundation, Wolford serves on the board of directors of Greater MSP, The Johnson Foundation at Wingspread and Living Cities.
ALVERNIA is a thriving university that empowers students through real-world learning to discover their passion for life, while providing the education to turn what they love into lifetimes of career success and personal fulfillment, helping them make the world a better place. Situated on a scenic 121-acre suburban campus in historic Berks County, Pa., the university of more than 3,000 students is conveniently located near Philadelphia (60 miles) and within an easy drive of New York, Baltimore and Washington, D.C. With a College of Arts and Sciences and College of Professional Studies, Alvernia today offers more than 50 undergraduate majors and minors and a range of graduate programs at the master's and doctoral levels through its School of Graduate and Adult Education. Satellite sites are located in Philadelphia and Schuylkill County.