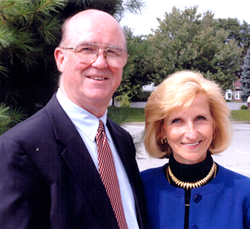 Reading, PA (PRWEB) April 19, 2015
Alvernia University will present the 2015 Rabbi Alan Weitzman Award for civic-mindedness to Chester and RoseMarie Winters, at a Seniors College reception in the McGlinn Conference Center (main campus) April 13, at noon.
The Rabbi Alan Weitzman Award is given to recognize civic-mindedness, to draw the community's attention to this vital role, and to encourage others to give of themselves through exceptional service to the community.
This year's recipients, Chester and RoseMarie Winters, are life-long residents of Berks County with a long history of service to the community.
With more than 49 years of business experience, Chester is a former Senior Vice President of Meridian Bank, CoreStates Bank and First Union. He also served as Vice President and Director of Information Security Services Division of WorldNet Technology before taking a position as Director of IT for Reading Area Community College.
RoseMarie, a 1982 graduate of Alvernia, has been a Registered Nurse for over 30 years. Now retired, she has been recognized for her dedication to her patients and their families, and as a strong advocate for patients' rights. Board certified in wound and ostomy care for 25 years, RoseMarie was employed at Reading Hospital and Medical Center and the Lehigh Valley Health Network as a private nurse consultant and wound ostomy care nurse.
The Winters have been extremely active in the community, having served more than 20 non-profit organizations such as Alvernia University, Saint Joseph's Medical Center Foundation, Children's Home of Reading, Reading Public Library, Campfire USA, Reading Jaycees, Douglassville Women's Club, and the Berks Business Education Coalition.
The Weitzman Award honors Rabbi Weitzman's remarkable life-long commitment to addressing the needs of others as well as his service as the longtime Director of the Alvernia Seniors College.
ALVERNIA is a thriving university that empowers students through real-world learning to discover their passion for life, while providing the education to turn what they love into lifetimes of career success and personal fulfillment, helping them make the world a better place. Situated on a scenic 121-acre suburban campus in historic Berks County, Pa., the university of more than 3,000 students is conveniently located near Philadelphia (60 miles) and within an easy drive of New York, Baltimore and Washington, D.C. With a College of Arts and Sciences and College of Professional Studies, Alvernia today offers more than 50 undergraduate majors and minors and a range of graduate programs at the master's and doctoral levels through its School of Graduate and Adult Education. Satellite sites are located in Philadelphia and Schuylkill County. As one of only 22 Franciscan institutions in the country, Alvernia's focus on caring for each other, the environment and the community are joined with a challenging educational experience to provide an unparalleled environment to grow, develop and mature as a person and professional.