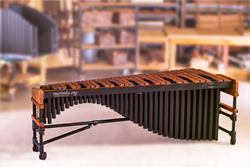 "It's all about the sound." ---- Ron Samuels, Founder & Owner, Marimba One
Arcata, CA (PRWEB) April 02, 2015
California-based Marimba One is pleased to announce the release of its newest product, the Marimba One 3100.
The marimba is a percussion instrument similar to a large xylophone, but with bars crafted out of Honduras Rosewood and resonators that amplify the sound.
For owner and founder Ron Samuels, the Marimba One 3100 is the fruition of three decades of acoustic refinement. "It's all about the sound," explains Samuels in his shop in the small college town of Arcata. "The bars on the 3100™ are selected from an inventory of over 100 tuned sets of bars to achieve a keyboard that is resonant, darker or brighter sounding, and bars that produce an amazing amount of sound."
A main part of the marimba's rich, dark sound is the resonator, and resonator voicing is complex. "We want to remove anything that detracts from the warmth and innate character of the marimba," explains Samuels. The new product features harmonic filters. "It's not unlike noise-cancelling headphones: our acoustic engineer pinpointed upper harmonics that were too bright. He then precision-built a filter inserted inside the resonators to cancel out the offending harmonics and therefore reinforce the sound we are looking to create."
While acoustics are always the primary focus for Samuels and his team, the new Marimba One 3100 also represents three decades of frame technology that were not without challenges. During R&D, the company's chief engineer and Samuels tested for durability by pushing the instrument against a solid wall to see if the frame would survive that kind of abuse. When the joint at the junction of the center support and frame proved indestructible, they knew they had succeeded The new marimba represents a breakthrough in the industry with the engineering of a lightweight aluminum rail to support the keyboard.
Samuels has barely paused to enjoy the success of his products which are endorsed by musicians Colin Currie, Katarzyna Mycka and others and played from Carnegie Hall to the Conservatory of Amsterdam. Already he is speaking with his resonator tuning master about the next product, about which he will not say anything, other than that it will be a game changer.