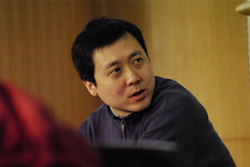 Arcata, CA (PRWEB) May 30, 2015
Based in the college town of Arcata, California, Marimba One is expanding its global reach with two new artist endorsements in China. The marimba is a large percussion instrument similar to a xylophone, but with a keyboard crafted out of Honduras Rosewood and large resonators.
Liu Gang is one of the most respected percussionists in China and is Vice President of the China Percussion Association. Long enamored of the particularly deep sound of the marimbas crafted by hand by Marimba One artisans, he is deeply committed to to promoting solo marimba repertoire in China.
A graduate of the prestigious Central Conservatory in Bejing, Zhengdao Lu joined the Percussion Faculty at Shenyang Conservatory of Music in 2008 and is currently Assistant Timpanist and Section Percussionist of the China National Opera Symphony Orchestra.
Zhengado Lu is a co-founder and organizer of the Shenyang International Percussion Festival.and a Committee Board member of percussion organizations such as China Percussion Association, Liaoning Percussion Society, China Marching Percussion Association and China Marimba Organization.
With a network of more than two dozen artists spanning from Japan to Europe to the U.S., Marimba One is delighted to add these two highly respected musicians to its roster.