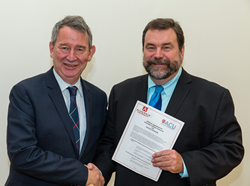 Our partnership with ACU will make it much easier for Alvernia students to take courses in an environment that has very similar commitments to values and academics.
(PRWEB) August 27, 2015
Students at Alvernia University's Reading, Pa., campus are heading back to classes this fall with their sights set on studying more than 10,000 miles away! That's because a new global studies partnership with Australian Catholic University (ACU) is making it possible for students to pursue study at one of the Aussie schools' six locations.
Alvernia and ACU students will be eligible to participate in the program beginning in January of 2016. Course credits between the universities will be transferable.
"ACU is well-known for its Global Studies program and was very interested in a partnership with a top institution that offered majors in a variety of healthcare fields," explained Alvernia President Thomas F. Flynn. "Alvernia was a perfect match."
Australia is one of the most popular study abroad destinations according to Dr. Beth Aracena, dean of Alvernia's College of Arts and Sciences, who is leading Alvernia's global learning efforts. "Our partnership with ACU will make it much easier for Alvernia students to take courses in an environment that has very similar commitments to values and academics."
In addition, both schools are exploring faculty development opportunities and service abroad initiatives that would engage students from both universities.
"ACU is delighted to formalize the relationship with Alvernia through this agreement. The university has a comprehensive internationalization strategy and opening up new opportunities with institutions that share our commitment and mission is critical to its success," said ACU Vice-Chancellor, Professor Greg Craven.
"The United States is very popular with our students and I have no doubt that the agreement between ACU and Alvernia will flourish."
"This is an exciting next step in developing our global studies and experiences and is very much in keeping with our focus on real world learning," said Dr. Aracena.
AUSTRALIAN CATHOLIC UNIVERSITY is one of Australia's fastest growing universities with over 32,000 students enrolled across seven campuses in 4 Australian States and the Australian Capital Territory. The university's mission informs all areas of operation and is realized through the university's community engagement activities and the core curriculum. With campuses in the cities of Sydney, Melbourne, Brisbane, Canberra, Ballarat and Adelaide, the university is committed to quality in teaching, research and service. It is also a community characterized by free inquiry and academic integrity. ACU offers a range of programs from undergraduate to doctoral level across its four faculties: Education and Arts, Law and Business, Health Sciences, Theology and Philosophy. Established in 1991, the university's heritage stretches back to the mid 19th Century.
ALVERNIA is a thriving university that empowers students through real-world learning to discover their passion for life, while providing the education to turn what they love into lifetimes of career success and personal fulfillment, helping them make the world a better place. Situated on a scenic 121-acre suburban campus in historic Berks County, Pa., the university of more than 3,000 students is conveniently located near Philadelphia (60 miles) and within an easy drive of New York, Baltimore and Washington, D.C.