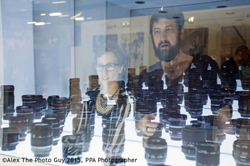 Photographers are Small Businesses. They can't go at it alone and Super 1 Day provides that much needed peer-to-peer learning and networking platform!
Atlanta, GA (PRWEB) September 28, 2015
Photographers looking for that extra educational and professional development boost don't need to go far this fall. From October 5 to 19, more than 100 photographers nationwide will open their doors to educate peers as part of "Super 1 Day,"—an educational opportunity from the largest international professional photography organization, Professional Photographers of America (PPA). During that week, more than 120 classes coast to coast will be offered to help PPA photographer members and non-members alike to better their photography and business skills, helping to enhance the industry as a whole.
Super 1 Day is a peer-to-peer photography learning extravaganza takes place in May and in October every year. PPA calls upon its members to volunteer to teach and share their strategies and techniques with fellow photographers, to offer "an experienced helping hand," says PPA CEO David Trust. The result of Super 1 Day, he says, is a more skilled and cohesive photography industry.
In exchange for teaching, photographers will earn two merits for each class taught. Attendees will earn service merits for workshops which go toward earning PPA degrees, professional distinctions recognized industry-wide. Attendees will also receive a Bonus Pack which includes exclusive discounts and offers from several leading photographic companies.
This semi-annual event offers photographers across the U.S. the opportunity to learn from their peers at a nearby professional studio and bolster their professional network in the local market.
Super 1 Day will offer professional photographers a range of photographic specialty courses such as portrait and wedding photography, posing and lighting, digital retouching and workflow, landscape and commercial photography, and sales and marketing strategies.
Pre-registration for Super 1 Day Photo Workshops is available for $99 until September 29, 2015. On-site registration will be available (space permitting) for $120. Registration and class information can be found online at http://www.PPA.com/Super1Day
About PPA:
Professional Photographers of America (PPA) is the largest international nonprofit association created by professional photographers, for professional photographers. Almost as long-lived as photography itself, PPA's roots date back to 1869. It assists more than 28,000 members through protection, education and resources for their continued success. See how PPA helps photographers be more at http://www.PPA.com.
.