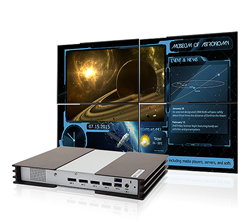 We want to create influential digital signage solutions that are also convenient and compact. Price-performance ratio is one of the most important factors, and we'd like to offer products costumers think are worth-it. - Exy Wang, sales team.
Taipei, Taiwan (PRWEB) October 06, 2015
Digital Signage Solution provider, CAYIN Technology, will be taking part in InfoComm MEA (Middle East Asia) 2015, from October 19th to 22nd, at booth TA-B42 in the Sheikh Saeed Hall (Opposite Hall1) of Dubai World Trade Center. During the exhibition, CAYIN will present a variety of applications, including a 2x2 video wall information center, and the debut of its newly developed Queue Management System.
Earlier this year, CAYIN introduced its 4-output Video Wall Solution, which supports up to 4K UHD resolution, at COMPUTEX 2015. The SMP-8000 is a powerful tool for digital menu boards, bulletin boards, information center and more, since the player contains multiple outputs and display modes to accommodate each and every applications. Users can easily avoid the traditional chaos having to build a video wall with excess equipments such as signal distribution box and amplifier, seeing that SMP-8000 provides crystal clear pictures straight from the DisplayPorts.
CAYIN's Queue Management System will also make its debut at InfoComm MEA this year. This application is beneficial for financial, medical or government institutions, amusement parks and other services often forming lines. The QMS will be released in an upcoming patch update in Q4, and it will be complimentary to all users. CAYIN also offers customized QMS and other tailored applications for its customers upon request.
For more information about SMP-8000 or the Queue Management System, visitors are welcome at CAYIN's booth (Booth #TA-B42) from October 19th to 22nd, in the Sheikh Saeed Hall of Dubai World Trade Center.
CAYIN Technology in Brief
CAYIN Technology offers a complete portfolio of digital signage solutions including media players, servers, and software which are applicable to various industries, such as education, retail, hospitality, corporate, financial, and public institutions. CAYIN is dedicated to being a reliable partner to its clients worldwide, and has successfully set up various application references globally. In order to best facilitate the deployment of CAYIN products, the company also provides tailored services to satisfy the ascending market demand for almost limitless applications.