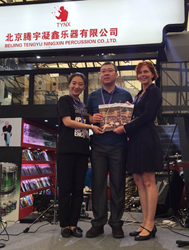 "Thanks to the deal we signed with Beijing Teng Yu Ningxin, the extraordinary Marimba One instruments are now available to Chinese musicians and music schools." -- Ron Samuels, CEO, Marimba One
Arcata, CA (PRWEB) November 10, 2015
Marimba One and Beijing-based Teng Yu Ningxin today announced a distributorship agreement. Marimba One marimbas and accessories are now available to all musicians and music schools throughout China.
For musicians seeking the finest of marimbas, and for professors determined to give their students the best tools for success, Marimba One is the number one choice.
From The Hong Kong Symphony Orchestra, to the Sydney Australia Opera House, to the Berlin Philharmonic Orchestra, to President Obama's Marine Band, and to the Li Biao Percussion Group, Marimba One is the defining sound of the marimba.
"It's my pleasure to announce our partnership with Beijing Teng Yu Ningxin. They will be distributing all of our California designed and built Marimbas and accessories throughout China," says Ron Samuels, Owner of Marimba One.