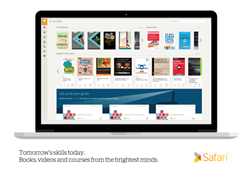 Great workplaces invest in giving their people the opportunity to learn and improve. - CEO Safari, Andrew Savikas
BOSTON, MA (PRWEB) December 09, 2015
Safari, the leading content delivery platform for technology and business learning resources today announced that it was selected by Acxiom® (Nasdaq: ACXM), an enterprise data, analytics and software-as-a-service company, to provide all employees with access to Safari, as part of an ongoing initiative to promote a culture of continuous learning.
"In an industry on the forefront of big data technologies, access to the right learning tools is mission-critical," says Acxiom's Head of Learning, Wes Hinesley. "We need continuous improvement to stay competitive, and Safari has demonstrated success in expedient product development, and a long history of bringing in publisher powerhouses that will help our teams innovate and grow."
Today's 21st century talent spotting practices require hyper-growth industries to reevaluate how they are looking at hiring, retaining, promoting and retaining employees. Learning potential, emotional intelligence, soft skills and leadership abilities all play critical roles in developing top-tier talent that accelerates a company's ability to remain competitive.
"We know that great workplaces invest in giving their people the opportunity to learn and improve the skills they need to do their best work, and promote a culture of sharing that knowledge," said Safari CEO, Andrew Savikas. "And we're proud to have been chosen by Acxiom for such a critical role in fueling that kind of learning culture."
Acxiom's technology teams have utilized Safari's technology rich content since 2011, and now the organization plans to integrate the growing leadership and business resources into existing training and curriculum programs.
Leadership development teams at Acxiom are expecting to integrate Safari's growing business and leadership content into training programs in 2016, and will be working with Safari to provide insight into how future-forward leadership programs can best take advantage of Safari's robust library. Safari is expected to launch enterprise-wide January 2016.
ABOUT ACXIOM
Acxiom is an enterprise data, analytics and software-as-a-service Company that uniquely fuses trust, experience and scale to fuel data-driven results. For over 40 years, Acxiom has been an innovator in harnessing the most important sources and uses of data to strengthen connections between people, businesses and their partners. Utilizing a channel and media neutral approach, we leverage cutting-edge, data-oriented products and services to maximize customer value. Every week, Acxiom powers more than a trillion transactions that enable better living for people and better results for our 7,000+ global clients. For more information about Acxiom, visit Acxiom.com. Acxiom is a registered trademark of Acxiom Corporation.
ABOUT SAFARI
Safari is the leading content delivery platform for technology and business learning resources with more than 40,000 books, video courses and articles from top industry experts and publishers. It delivers a personalized, mobile-friendly learning experience to help professionals advance their personal and professional development. Established in 2001, Safari is headquartered in Sebastopol, California, and is a wholly owned subsidiary of O'Reilly Media.
###