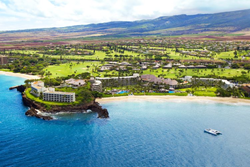 The half day sessions represent the perfect balance of quality CME education and time for Primary Care Practitioners to relax and reflect. -- Barbara Lyons, VP CEC
Palm Coast, Florida (PRWEB) August 12, 2015
The 2015 Medical Conference agenda for the 5th Annual Primary Care Fall CME Conference has been released by Continuing Education Company, a leader in live continuing medical conferences.
This medical conference is from October 19-23, 2015 at the Sheraton Maui Resort & Spa and features an expert faculty and half day medical education sessions.
The 5th Annual Primary Care Fall CME Conference is designed to update primary care clinicians in rapidly changing therapeutic areas. The emphasis is on practical and useful information for clinical practice.
According to Barbara Lyons, VP, "The half day sessions represent the perfect balance of quality CME education and time for Primary Care Practitioners to relax and reflect."
The agenda for the conference runs from 8am-12:15 pm Monday through Friday, with the afternoons free for the attendees to reflect upon the clinical pearls offered during the educational seminars in the morning.
The agenda is as follows:
MONDAY October 19, 2015
8:00 – 9:00am GERD
9:00 – 10:00am Dysphagia
10:00am BREAK
10:15 – 11:15am Community Acquired Pneumonia
11:15 – 12:15pm MRSA Infections
TUESDAY October 20, 2015
8:00 – 9:00am An Update on Targets and Guidelines for Management of Diabetes
9:00 – 10:00am Non-Insulin Management of Diabetes in the Outpatient Setting: A Case Oriented Approach
10:00am BREAK
10:15 – 11:15am Ten Cases of Fever
11:15am – 12:15pm Reading Pulmonary Function Tests in the Outpatient Setting
WEDNESDAY October 21, 2015
8:00 – 9:00am Hypertension Update 2015
9:00 – 10:00am Resistent Hypertension
10:00 BREAK
10:15 – 11:15am Asthma
11:15am – 12:15pm Sleep Apnea
THURSDAY October 22, 2015
8:00 – 9:15am SPECIAL INTERACTIVE SIMULATION SESSION: NOACS: What the Evidence Shows in Managing Afib, Stroke Prevention and DVT/PE
9:15 – 10:00am Prescribing Evidenced Based And Cost Effective Generic Medication
10:00am BREAK
10:15 – 11:15am Persistent And Undiagnosed Pain In The Elderly
11:15am – 12:15pm Migraines
FRIDAY October 23, 2015
8:00 – 9:00am Primary Care Pearls
9:00 – 10:00am Fibromyalgia Update
10:00am BREAK
10:15 – 11:15am New Drug Update I
11:15am – 12:15pm New Drug Update II (Open Format Q & A Session)
Continuing Education Company, Inc. (CEC) is an independent, non-profit, 501 (c)(3) continuing medical education organization. They have been developing and presenting continuing medical education programs for over 23 years. Their mission is to develop and provide educational opportunities to improve the skills and knowledge of medical and healthcare professionals. They accomplish this mission by offering American Academy of Family Physicians (AAFP) accredited CME lectures, symposia, and conferences.
Educational activities are developed with the guidance of Continuing Education Company's Curriculum Advisory Committee. The committee, led by on-staff Medical Director, is comprised of physicians, pharmacists, educators who have extensive clinical and CME experience.
The mission of the Continuing Education Company is to improve public health by developing and providing educational opportunities to advance the skills and knowledge of physicians and other healthcare professionals. This mission is accomplished by assisting healthcare professionals in assessing their educational needs and providing them with evidence-based education which meet those needs.
VIsit their website http://www.cmemeeting.org for more information.