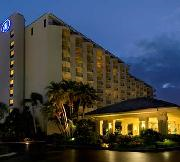 This Primary Care CME Agenda is excellent! It contains many different topics including diabetes, hyperlipidemia, HRT, Infectious Disease and many other family medicine concerns -- Barbara Lyons, VP CEC
Palm Coast, Florida (PRWEB) October 14, 2014
The agenda for the 3rd Annual Essentials in Primary Care Winter Conference which is being held at the Hilton Marco Island Resort & Spa has been finalized and released. The conference, which runs February 2-6, 2015 features morning lectures with afternoons free for the family medicine and internal medicine physicians, nurse practitioners and physician assistants who attend.
Barbara Lyons, VP of Education, says "This Primary Care CME Agenda is excellent! It contains many different topics including diabetes, hyperlipidemia, HRT, Infectious Disease and many other family medicine concerns".
The agenda is as follows:
MONDAY February 2, 2015
Update in Hyperlipidemia
Managing Lipids With Supplements In The Statin Intolerant Patient
The Shaky Patient: Tremors
The Dizzy patient
TUESDAY February 3, 2015
Using Biomarkers to Aid in the Management of Heart Failure
Chest pain in the Office: History, Physical and ECG
Current Diagnosis & Treatment in Allergic Rhinitis
Urticaria Update and Case Review
WEDNESDAY February 4, 2015
Common Musculoskeletal Injuries with an Emphasis on the Physical Exam
Update on the Latest Guidelines in Women's Healthcare
HRT: The Risks & Benefits
THURSDAY February 5, 2015
Creating Clarity from Confusion – Targets and Techniques in Outpatient Management of Diabetes
Diabetes Drug Safety – How to Balance Risks and Benefits in Diabetes Care
HIV 2014 - Important Questions for the Primary Care Clinician
Cases from the Beeper - Great Questions and Teachable Moments from the World of Infectious Diseases
FRIDAY February 6, 2015
Pigmented Lesions: Nevi, Melanoma and Dermoscopy
Avoiding Mistakes in Dermatology
New Drug Updates
Visit the company website for more information about this and other Continuing Education Company sponsored CME Conferences.
Continuing Education Company, Inc. (CEC) is an independent, non-profit, 501 (c)(3) continuing medical education organization. They have been developing and presenting continuing medical education programs for over 23 years. Their mission is to develop and provide educational opportunities to improve the skills and knowledge of medical and healthcare professionals. They accomplish this mission by offering American Academy of Family Physicians (AAFP) accredited CME lectures, symposia, and conferences.
Educational activities are developed with the guidance of Continuing Education Company's Curriculum Advisory Committee. The committee, lead by their on-staff Medical Director is comprised of physicians, pharmacists, educators who have extensive clinical and CME experience.
The mission of Continuing Education Company, Inc. (CEC) is to improve public health by developing and providing educational opportunities to advance the skills and knowledge of physicians and other healthcare professionals. This mission is accomplished by assisting healthcare professionals in assessing their educational needs and providing them with evidence-based education which meet those needs.