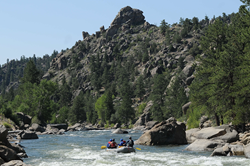 The Arkansas River is going to have more water this summer than it's had in 20 years, but thre are still options for beginners.
Buena Vista, Colo. (PRWEB) May 28, 2015
River Runners, a Colorado whitewater rafting company with two locations on the Arkansas River - at the Royal Gorge and at Browns Canyon National Monument - is now offering daily rafting trips through September 7, 2015.
The Arkansas River Basin Snowpack is 282% of normal for this time of year, so local river outfitters expect big water this summer, according to Travis Hochard, general manager, River Runners.
"This is the most snow we have seen in late May since 1995, which was a big runoff year," Hochard said. "We expect high water through June and the first part of July and good flows through Labor Day."
High water offers more thrills, which is why safety is a top priority for the Colorado rafting company, according to Jon Treleani, head boatman, River Runners.
"Whitewater rafting at high water is exciting and it's what many people are hoping to experience," Treleani said. "But safety comes first and that starts with getting people booked on the right rafting trip from the beginning."
More than 100 miles of the Arkansas River is within the Arkansas Headwaters Recreation Area (AHRA), a division of Colorado Parks and Wildlife, according to Treleani.
"The Arkansas River is going to have more water this summer than it's had in 20 years, but there are still options for beginners," Treleani said. "Whether you choose a scenic float trip or an advanced whitewater adventure, it will truly be a once-in-a-lifetime experience."
River Runners offers guided whitewater rafting trips from two locations on the Arkansas River. Raft beginner, intermediate and advanced whitewater on half-day, full-day and overnight adventures. Call 800-723-8987 or book online at whitewater.net