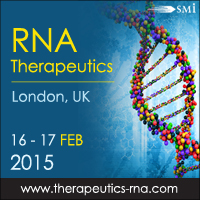 London, UK (PRWEB UK) 8 October 2014
SMi Group are thrilled to announce that registration is now live to attend the 6th annual conference, RNA Therapeutics , taking place on 16th & 17th February 2015 in Central London.
RNA Therapeutics 2015 will asks questions such as: What are the current opportunities, obstacles and solutions for developing effective RNAi based drugs? What makes CRISPR-Cas special and how can be used as a role model for personalised medicine? Why use a patent to protect a biotech innovation? How do we unlock the potential with locked nucleic acid? How does the next generation of ASOs demonstrate robust target knock down in multiple preclinical cancer models? Click here to download the brochure
Attendees will hear case study driven presentations from an array of market leaders such as Roche, CRISPR Therapeutics, Leiden University Medical Centre, MiNa Therapeutics and AstraZeneca, discussing the latest advancements and programmes, CRIPSPR gene editing technologies, hepatic targeting, viral delivery, the patent application process and RNA splicing.
KEY SPEAKERS INCLUDE:

Claude Paul Malvy, Professor, Universite Paris Sud - CONFERENCE CHAIR
Joerg Kaufmann, Chief Scientific Officer, Silence Therapeutics - CONFERENCE CHAIR
Bo Rode Hansen, VP, Drug Discovery & Alliance, Roche
Rodger Novak, CEO, CRISPR Therapeutics
Annemieke Aartsma-Rus, Associate Professor, Leiden University Medical Center
Nagy Habib, Chairman and Co Founder, MiNa Therapeutics
David Blakey, Chief Scientist, AstraZeneca
For those who are interested in attending, there is currently a £300 discount available online for bookings made this month. For further details or to download a brochure, visit http://www.therapeutics-rna.com
RNA Therapeutics: From Cell to Sales – Clearing the Path to Market
16-17 February 2015
Marriott Regents Park Hotel, London UK
http://www.therapeutics-rna.com
About SMi Group:
Established since 1993, the SMi Group is a global event-production company that specializes in Business-to-Business Conferences, Workshops, Masterclasses and online Communities. We create and deliver events in the Defence, Security, Energy, Utilities, Finance and Pharmaceutical industries. We pride ourselves on having access to the worlds most forward thinking opinion leaders and visionaries, allowing us to bring our communities together to Learn, Engage, Share and Network. More information can be found at http://www.smi-online.co.uk