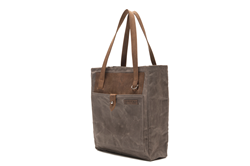 We set out to design a men's tote that works well for guys to use professionally or on casual outings—not just the look, but the size and features as well.
San Francisco, CA (PRWEB) August 11, 2015
WaterField Designs, an innovative leader in custom laptop sleeves, bags and cases for digital-minded professionals, announces the new Field Tote: a handsome, elegant tote of refined waxed canvas and distressed leather. Thoughtfully designed for versatility, the open-topped Field Tote was developed with the busy professional in mind. Worn with a suit or jeans, it fits right in at the office, in Business Class, on a commuter train, or at the gym. This ruggedly built and impeccably crafted Field Tote withstands wear and tear, while growing increasingly attractive with each use.
"We set out to design a men's tote that works well for guys to use professionally or on casual outings—not just the look, but the size and features as well," explained owner Gary Waterfield. "You can stow your laptop-in-a-sleeve or tablet in the Field Tote or stuff in your gym towels, wine bottles, or magazines. We've included deep pockets for security and leather handles that are just the right length for putting on your shoulders, or carrying at your side."
Every aspect of the water-resistant, waxed-canvas Field Tote has been carefully considered. The depth easily fits a laptop vertically along with files and other office necessities. The roomy interior remains narrow and sleek when not fully packed, yet expands easily to fit indispensables for a light weekend away. Two layers of premium full-grain leather make for heavy-duty straps that are long enough to sling over a shoulder keeping hands free, but short enough to use as sophisticated handles, to avoid creasing a suit jacket. A deep, quick-access front pocket for frequently-used items is secured by a beautiful leather tab and metal screw stud. Inside, a zippered pocket secures with a locking slider for a wallet and other valuables. A key tether or other quickly-needed item can attach to a metal ring at the base of one handle.
The Field Tote is so lightweight that it can be folded and carried in another bag for use upon arrival at a new destination. The waxed canvas and naturally-tanned, distressed leather details age beautifully, gaining character over time. Three timeless, neutral color choices—brown, burgundy or navy—transition easily from work to more casual settings.
To keep laptops and tablets safe within the Field Tote, WaterField offers the laptop Sleeve Case, and the Ultimate SleeveCase and Outback Slip for popular tablets. An array of WaterField's gadget-specific cases can keep technology safe and secure within the Field Tote. WaterField Designs is deeply committed to quality craftsmanship and manufactures all its products entirely in its San Francisco workshop.
Availability & Pricing
The Field Tote
Price: $119.
Dimensions: 15 x 14 x 5 inches. Weight: 1 lb.
Materials: Waxed canvas, full-grain, naturally-tanned leather, metal stud closure, self-locking zipper.
Colors: Brown, burgundy, or navy waxed canvas. Grizzly brown leather.
Available for pre-order at the company online store. Shipping begins August 14, 2015.
About WaterField Designs
WaterField Designs is an innovative San Francisco designer and manufacturer of bags and cases for tech-savvy consumers who want to stylishly and responsibly transport their technology. WaterField manufactures custom-fitted, high-quality cases and bags for a full-range of laptop computers, smartphones, tablets, gaming devices and other digital gear. All products are manufactured to exacting standards entirely in San Francisco. More information at "Our Story."