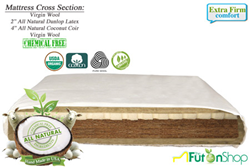 Come into any of the ten locations in California or buy online and save 60 percent off
San Francisco, Ca (PRWEB) June 29, 2015
TheFutonShop.com, the largest organic and green futon mattress manufacturer, is celebrating 2015 Fourth of July with fireworks exploding with huge discounts. This San Francisco based Manufacturer is offering discounts on everything. Customers can get the best value with all mattresses and furniture.
Come into any of the ten locations in California or buy online and save 60 percent off Coconut and chemical free mattresses, and 50 percent off on organic futon mattresses, toppers, latex, memory foam, springs, cotton, wool and foam mattresses.
The Futon Shop not only is discounting on mattresses, but there are huge discounts on their platform beds, wall huggers and hardwood sofa bed futons, guest foldable beds, and decorative covers and pillows. There are only a limited amount of covers available on discount, so act soon to save big.
The Futon Shop has sold thousand of futons and has perfected the art of futon manufacturing. From chemical free futon mattresses without pesticides, toxic fire retardants, and omitting petrochemicals from the foam and memory foam they use, The Futon Shop has the healthiest sleeping options in over 33 comfort levels.
The Futon Shop has a quick delivery time and can get most items quickly by three options: Delivery, pick up in store, or shipping.
About The Futon Shop:
For over 30 years, The Futon Shop, has made it their mission to produce the best eco-friendly, Organic and Natural futons, organic futon mattresses, futon covers for sofa beds, futon frames, and platform bed frames that promote better healthy living and a good night's sleep for all.