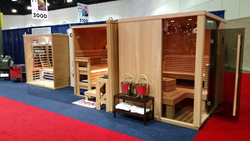 IHRSA is a great opportunity for Helo Commercial to showcase our direct sales program where we work with the owner, contractor, or architect to design a sauna and steam program to meet the needs of each facility
Cokato, MN (PRWEB) March 30, 2015
At the 2015 International Health Racquet & Sportsclub Association (IHRSA) Show, Helo Commercial introduced the new Fonda wall mounted heater and a continuing education program through AEC Daily.
Club owners and facilities managers with saunas smaller than 425 cubic feet (approximately 7'x8'x7') like the new, sleek design of the Fonda heater. With an attractive seamless red shell encasing the heater, the heater is an immediate upgrade for a sauna, especially when mounted in front of a full length glass panel, as is common in many facilities. Feet for the heater are available as an option to help facilitate installation when the heater cannot be wall-mounted. Currently available in two options, built-in controls or digital touch screen, many visitors saw immediate benefits to a touch screen digital control, as it provides a digital temperature read out, time of day, and lock out control to prevent patrons from adjusting the temperature.
For designers, architects, and contractors who work with the fitness facilities industry, the introduction of the [free AEC Daily continuing education course on sauna, infrared, and steam design and installation was well received. In addition to credits for AIA and other professional organizations, the course provides an explanation of the similarities and differences between the different types of heat bathing, typical installations for each, and recommendations for how to plan and to design the rooms.
When asked about the show, Scott Raisanen, Helo Commercial's Manager of Commercial Accounts, said, "IHRSA is a great opportunity for Helo Commercial to showcase our direct sales program where we work with the owner, contractor, or architect to design a sauna and steam program to meet the needs of each facility."
To learn more about Helo Commercial or the AEC Daily continuing education program, call Helo Commercial at 800-225-7519, email sales(at)helocommercial(dot)com, or visit http://www.helocommercial.com.