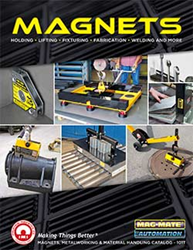 Boyne City, MI (PRWEB) July 29, 2015
Industrial Magnetics, Inc. (IMI) has published a new, 40 page, full color catalog titled "Magnets for Holding, Lifting, Fixturing, Fabrication, Welding and More."
The magnetic products catalog includes over 70 new part numbers for increasing the speed, efficiency and safety of material handling operations involving metal.
New product offerings include magnetic holders for welding torches, air tools, cups & spray guns, adhesive backed cup magnets and Max-Attach™ Polymagnets® for high-performance holding. Updates on IMI's full line of lifting magnets, manhole cover lifts, welding magnets, magnetic sheet fanners and Transporters® can also be found.
The catalog is available to download from the "media" page of the company's website at http://www.magnetics.com/media.asp (registration required) or a hard copy can be requested by calling 888.582.0822.