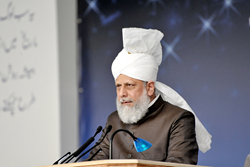 The injustices in the world are fuelling dissatisfaction and it is vital that leaders take heed to promote harmony and peace based on justice as that will have lasting benefit
(PRWEB UK) 11 August 2015
The peace-loving Ahmadiyya Muslim community is the very antithesis of the extremism. It is a community that defines itself as 'Love for All, Hatred for None' and its membership of tens of millions in 200 countries is known for its public spirited works; it collects for poppy appeal, practices loyalty to country as a part of their faith, runs a major charity for projects in Britain as well as development programmes including schools and hospitals in Africa.
Among the Muslims at the convention, held for the past 49 years in Britain, will be journalists, judges, barristers, accountants, city traders, teachers, doctors, engineers – standing shoulder to shoulder, united in faith, with people of all races, professions and nationalities.
The Caliph, His Holiness Mirza Masroor Ahmad, who is the Head of Worldwide Ahmadiyya Muslim Community, will be hosting and addressing the convention, said:
"In Europe, North and South America, Africa, Asia, Australia and all other parts of the world Ahmadiyya Muslim Community is united under the banner of peace.
"Whilst our community is promoting the message of true Islam – of love, affection and peace – throughout the world, some young people are being misguided and radicalised to create disorder here and abroad, in the name of an entirely senseless and false Jihad. Furthermore the injustices in the world are fuelling dissatisfaction and it is vital that leaders take heed to promote harmony and peace based on justice as that will have lasting benefit."
Rafiq Hayat, National President Ahmadiyya Muslim Community UK, said:
"The Ahmadiyya Muslim community is putting into practice the Islamic principles that gives peace, inclusivity, tolerance and progressive intellectual thinking pride of place. The Annual Convention is a great example of how people from all countries can live together in peace. We are honoured that the Caliph will be personally addressing the convention – his guidance on how to achieve peace is timely and much needed."
The 49th Jalsa Salana (annual convention) takes place 21-23 August at East Worldham, Alton, Hampshire GU34 3AU
Note to editors:
In London, we are offering opportunities for interviews, filming and photography, commencing one week in advance of the convention, starting Friday 14th August.
Also, Ahmadiyya Muslim branch offices located in all major towns and cities of Britain, from where the majority of the UK conference delegates would arrive, are available for direct media contacts. Please ask for contact information.
Ahmadi Muslims – one of the oldest Muslim groups in Britain, accept Hazrat Mirza Ghulam Ahmad, a 19th century spiritual reformer from India, as the Messiah awaited by all major religions. The Community, now established in some 200 countries, is at the vanguard of the revival of true Islam.
His Holiness Mirza Masroor Ahmad, the Caliph of the Worldwide Ahmadiyya Muslim Community, currently based in West London, will host the annual convention and address it on each of the three days.
Ahmadi Muslims are active in their communities; they raise hundreds of thousands of pounds for charities each year and have their own charity Humanity First that is serving humanity locally as well as in all parts of the world irrespective of colour, race or religion. Ahmadi Muslims are the pioneers of interfaith dialogue. In 2003 they opened the largest purpose built mosque in Western Europe in Morden Surrey, which can accommodate more than 13,000 people. The community also built the first mosque in London in 1924.
Contact details:
Basharat Nazir +447703 483384
E-mail: media(at)ahmadiyya(dot)org(dot)uk
Mahmood Rafiq +447971 060 962
Twitter: @JalsaUK @AhmadiyyaUK