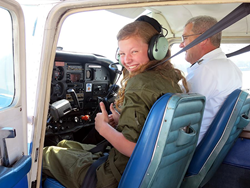 Air Camp inspires students to not only learn how to fly, but to learn how flight works.
Dayton, Ohio (PRWEB) April 06, 2015
Air Camp is extending the reach of its experiential aviation curriculum, designed to inspire middle school students to learn the science, technology, engineering and mathematics (STEM) behind aviation and aeronautics, through hands-on learning activities and the thrill of flying a plane.
Summer Camp Sessions for Middle School Students: June 14-19, July 5-10 and 12-17
Air Camp's three summer camp sessions attract students from coast to coast, who are entering grades seven through nine in the fall. Applications are being accepted at http://www.aircampusa.com through April 30.
Air Camp students discover the exciting aviation resources of the Dayton region, from their home base at Wright State University.
Air Camp activities include:

Visiting Dayton History to see the origins of flight and the Boonshoft Museum to view international flight patterns
Observing flight operations at the Dayton International Airport
Touring behind the scenes at Wright-Patterson Air Force Base and the National Museum of the United States Air Force
Taking a short course in flight training at Sinclair Community College
Flying a drone and piloting a plane at the Dayton-Wright Brothers Airport
Experiencing a new robotics activity with Yaskawa Motoman Robotics
STEM Educators Event: October 2-4
Ohio educators who teach STEM subjects to sixth through tenth grade students will be invited to learn Air Camp's unique aviation-based curriculum at a weekend workshop. The Air Camp summer curriculum has been redesigned for the classroom to make STEM subjects come alive, with assistance from the Montgomery County Educational Service Center and the Dayton Regional STEM Center. Special funding has been provided by the Engineering and Science Foundation of Dayton to hold one educator workshop per year from 2015 through 2017. The curriculum meets all Ohio and Common Core standards. The objective is to share Air Camp's instructional techniques and tools with thousands of students throughout Ohio.
Air Camp Events at the Boonshoft Museum of Discovery
Air Camp will partner with the Boonshoft Museum in Dayton to present STEM activities based on its aviation and aerospace curriculum at special events year-round, such as the Dayton Regional Science Festival and Physics Day.
"We have planned an action-packed 2015 for Air Camp, with new STEM education initiatives to reach more people statewide and nationwide," said Ken Curell, executive director of Air Camp. "We are most grateful to our donors and supporters who are helping Air Camp inspire students to not only learn how to fly, but to learn how flight works."
About Air Camp
Hosted in the Dayton, Ohio region – the birthplace of aviation – Air Camp supports education in the science, technology, engineering and math of aviation and aeronautics, designed to inspire middle school students, through weeklong summer camps, educator workshops, and year-round special events. Air Camp is a not-for-profit organization supported by donations from educational institutions, foundations, businesses and individuals. For further information, visit http://www.aircampusa.com or find us on Facebook.