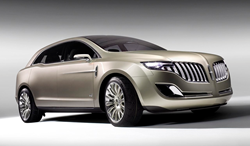 These models are often the first time that the designers original vision actually comes to life. And…that's pretty cool!
Rochester Hills, MI (PRWEB) January 11, 2015
Each year, the auto industry gets revved-up with the series of auto shows across the country, providing them with a chance to get their new models in front of us car-loving American consumers.
In addition to the cars that will soon arrive on your local dealer's showroom floor, these events also provide us with a glimpse into a possible automotive future. Some of the coolest vehicles on display are the concept cars, trucks and SUVs. The concept vehicles displayed each year have traditionally been considered automotive daydreams, with wildly exaggerated design features and futuristic technologies. Therefore, it used to be very rare that a concept car would actually make it to production.
Today, concepts (or prototypes) continue to be the best way for automakers to gauge reaction from consumers and help to dictate future designs. During the past few years, we've even begun to see these concepts getting closer and closer to what the new models will actually be. So, the business of vehicle models, prototypes and concepts is an important one, and the facilities that create them are considered the Santa's Workshops of the auto industry.
The team at Prefix Corporation in Rochester Hills, Michigan is recognized as a leading innovator in the creation of full scale models. Their operation employs nearly 300 people and works with major automotive and aviation manufacturers around the world. "We work very close with the vehicle's original designers and engineering teams to create these models." explained Prefix Corporation's, Eric Zeile. "These models are often the first time that the designers original vision actually comes to life. And…that's pretty cool!" Prefix is a fully functioning manufacturing outlet, with far reaching capabilities that include: special custom vehicle projects, luxury interiors, prototyping, full-scale models, precision machining, high-tech paint and finishing, and even engine performance. "Most of the work we do here is extremely confidential, and we can't and won't discuss those projects." continued Zeile. "However, it is still very rewarding to see these beautiful vehicles when they're on display and being seen by the public for the very first time."
Prefix has been creating these prototype models since the 1980s, and works with every major automotive OEM in the industry. However, cars and trucks aren't the only vehicles that have emerged from their doors. The futuristic fighter Jet from the Transformers film franchise was created at Prefix. It was an intimidating full-size model that could rotate on a mechanical frame for filming the action sequences. Recently, Prefix Corporation was commissioned to take on the challenge of creating a full-scale model to showcase the brand new Gulfstream G600 luxury business jet. The 63 foot long full-scale model is used by the aviation engineers and designers as a final inspection of the aircraft before it is tooled for production. The mock-up was celebrated during the National Business Aviation show in Orlando, offering potential buyers an accurate customer experience of walking through the cabin and seeing the luxury finishes first hand.
With many car companies enjoying improved sales numbers over years past, and with fuel prices lower than we've seen in a long time, there is definitely a renewed sense of excitement in the automotive world. We'll once again have the chance to see some wild transportation options that we hope will eventually see the production line. While the team at Prefix can't discuss what's currently being created within their walls, they are familiar with some of the concepts we will see this year, and are just as excited to see our reaction.