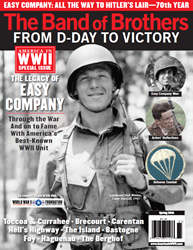 Easy Company is a great microcosm. It helps us get a glimpse of what front-line ground combat in Europe was like, what it did to people, and how they dealt with it.
HARRISBURG, PA (PRWEB) March 14, 2015
THE BAND OF BROTHERS FROM D-DAY TO VICTORY—AMERICA IN WWII magazine's spring 2015 special issue—is "part photo album, part virtual museum," says publisher Jim Kushlan. The special issue, due on bookstore newsstands on March 31, focuses on the men of Easy Company (Company E) in the 2nd Battalion of the 506th Parachute Infantry, a regiment of the 101st Airborne Division in World War II.
In its 100 pages, says Kushlan, the special issue features rarely seen images, including photos of little-known paratroopers, plus weapons and gear, uniform items, insignia, and captured war relics. There are first-person memories of combat jumps and battle, and narratives of Easy Company's actions in Normandy and Holland (the latter recounted by none other than Easy Company's most beloved commander, Major Richard D. "Dick" Winters). And there is coverage of the Band of Brothers phenomenon that lifted Easy Company to fame, including reflections by actors who played Easy Company men in HBO's Band of Brothers series.
The men of Easy Company were proud of their unit, loyal to one another, and determined to serve honorably in combat. After that, says Kushlan, most of those who survived wanted to come home and pursue normal, peaceful civilian lives. But because Easy Company's WWII mission was so dramatic—dropping from the sky to take on the enemy behind battle lines—and because they gathered for a reunion every year, they drew the attention of historian Stephen Ambrose.
Ambrose recognized a good story, and he told it in his 1992 book BAND OF BROTHERS: E Company, 506th Regiment from Normandy to Hitler's Eagle's Nest. It was he who dubbed Easy Company the "Band of Brothers," borrowing a line from Shakespeare's Henry V. Then the hit 2001 HBO mini-series BAND OF BROTHERS, a collaboration of actor-producer Tom Hanks and director Steven Spielberg based on the book, made Easy Company a household name across the United States.
"Why produce a special issue on this heavily exposed unit?" asks Kushlan. He answers his own question. "It's because Easy Company is a great microcosm. It helps us get a glimpse of what front-line ground combat in Europe was like, what it did to people, and how they dealt with the hardship, violence, and danger."
Kushlan says Easy Company is probably the best-documented American unit of World War II. "So, following these men from D-Day—well, even from before that, from their training for war and D-Day at Camp Toccoa, with its notorious Mount Currahee—all the way through the victory over Germany, shows us a lot about the human story of America's WWII front-line troops."
The issue, notes Kushlan, actually follows the Easy Company men beyond the victory over Nazi Germany. "We cover occupation duty, the return home, and then the mixed blessing of their sudden rise to fame, and what that did to them."
THE BAND OF BROTHERS FROM D-DAY TO VICTORY is published in cooperation with the World War II Foundation, which provided recorded interviews with Easy Company veterans and actors from the HBO series. Joe Muccia of Fredericksburg, Virginia, who works closely with surviving Easy Company veterans and their families, provided images from the families and acted as historical consultant and contributing editor for the issue.
Priced at $9.99, THE BAND OF BROTHERS FROM D-DAY TO VICTORY may be ordered directly from the publisher at http://www.AmericaInWWII.com, 717-564-0161, or by mail at AMERICA IN WWII, 4711 Queen Avenue, Suite 202, Harrisburg, PA 17109. Starting March 31, 2015, the issue will also on sale at Barnes & Noble and select other bookstore newsstands across the United States. Digital editions for handheld devices, Mac, and PC will become available starting in late March and early April; check your device's newsstand or app store, or visit http://www.AmericaInWWII.com/subscriptions for links.
AMERICA IN WWII, now in its 10th year, is a bimonthly magazine about the American experience in the Second World War—the war, the home front, and the people. It is available at Barnes & Noble and Books A Million stores, and select other bookstores.
AMERICA IN WWII and AmericaInWWII.com are publications of 310 Publishing LLC of Harrisburg, Pennsylvania, a company committed to telling the stories of history in human terms.