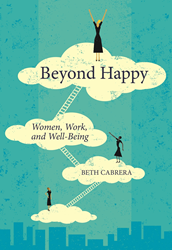 I feel grateful for a moment of being rather than doing.
Alexandria, VA (PRWEB) September 01, 2015
Juggling competing demands is the norm for most women today. Primary household and caregiving responsibilities remain squarely on the To Do List, and when a career is added to the mix, the recipe for stress is realized, especially when most workplaces remain inflexible, with limited family policies, and unrealistic expectations of 24/7 availability.
What's the answer?
According to positive psychology authority Beth Cabrera, the answer is: pursue well-being.
In her new book, "Beyond Happy: Women, Work, and Well-Being," Cabrera takes apart the myth of "work-life balance," calling it an impossible goal. What balances one day doesn't necessarily balance the next. That's why Cabrera notes that pursuing well-being leads to more positive outcomes for everyone.
"Beyond Happy" identifies two dimensions that contribute to well-being: feeling good and doing good. And Cabrera provides simple, practical examples of what these dimensions look like in real life. Combining a decade of research with examples from the lives of women, Cabrera offers tried-and-true strategies that anyone can use to experience greater joy and find more meaning in life. And her relatable writing style makes this book enjoyable to read:
"I used to be a big multitasker. I'd eat lunch while preparing a presentation, check email while talking on the phone, chop carrots while watching the news … and read the latest article on work-life conflict while standing in line at the grocery store.
"On the rare occasion when I was only doing one thing, my mind was usually doing something else. I would plan my day while walking the dog or driving to work. I would think about what I should blog about, what phone calls to make, or what to cook for dinner. Now I try to stay present in these moments. I've found that if I set aside a specific time in my day for planning, it helps me stay in the here and now at other times. I also practice mindfulness when I'm waiting for someone or am stuck in traffic. These are occasions that used to really frustrate me, but now I take a deep breath and try to appreciate a minute of calm. I feel grateful for a moment of being rather than doing."
"Beyond Happy" is published by ATD Press. Read a sample chapter from the book. Follow the conversation on Twitter with #beyondhappy, or the author @bethcabrera.
About ATD Press
The premier publisher specializing in talent development, training, and professional development.
The Association for Talent Development (ATD), formerly ASTD, is the world's largest association dedicated to those who develop talent in organizations. ATD Press publications are written by industry thought leaders and offer anyone who works with adult learners the best practices, academic theory, and guidance necessary to move the profession forward.