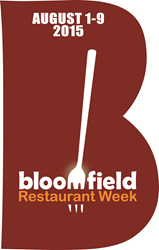 Over Twenty Local Eateries to Offer Budget-Friendly, Fixed-Price Menus
Bloomfield, NJ (PRWEB) July 10, 2015
Bloomfield Restaurant Week 2015 will run from Saturday, Aug. 1 through Sunday, Aug. 9. The popular event showcasing the diversity of the cuisines available in town has been expanded this year to give diners additional time to sample a variety of restaurants. More than 20 of Bloomfield's finest restaurants will offer lunch and/or dinner prix fixe menus costing $30 or less, not including drinks, tax and tips.
"In Bloomfield, we are blessed with a wide array of delicious food and Bloomfield Restaurant Week is the perfect opportunity to visit a few favorites and try some new ones," said Anthony Lauro of Anthony's Cheesecakes and a member of the Bloomfield Restaurant Week Committee.
The special prix-fixe, multi-course options offered by each participating restaurant encourages diners to try several different eateries during the August promotional week.
Rodgee Cao, owner of Spice Thai Cuisine, who is also a member of the Bloomfield Restaurant Week Committee, is equally enthusiastic about this event and the opportunity to interact with the dining community. "For me, food is universal and that's what excites me about Bloomfield Restaurant Week. As a restaurant owner, I get to meet all types of people from different backgrounds. During previous events, I met many new customers who had never eaten Thai food before and they have now become regular customers. Bloomfield has a rich cultural history and diversity and Restaurant Week showcases the array of eclectic and fascinating cuisine our town has to offer."
Extensive promotions for Bloomfield Restaurant Week will reach local residents as well as the neighboring communities of Montclair, Nutley, Glen Ridge, Belleville, Clifton, West Orange and beyond. Comcast Spotlight is a major sponsor and promoter of the event; watch for commercials beginning in July on Food Network and other local cable channels.
Additional Information including participating restaurant menus and specials for Bloomfield Restaurant Week is available at http://www.BloomfieldRestaurantWeek.com and stay connected on Facebook at https://www.facebook.com/bloomfieldrestaurantweek for a chance to win random fan sweepstakes and giveaways from participating restaurants or connect on Twitter @BloomfieldNJRW.
***New on this year's menu is Drop & Dine, which is designed to enable Bloomfield parents to enjoy a dinner date night. From Wednesday, Aug. 5 through Friday, Aug. 7, the Bloomfield Recreation Department will host up to 18 children between the hours of 6 and 9 p.m. There will be age-appropriate games and activities for children in grades K – sixth grade. Dinner and refreshments will be provided. There is a $15 per-child, per-night fee.
All interested parents should contact the Bloomfield Recreation Department to be placed on the Drop and Dine list on a first-come, first-serve basis starting on Monday, July 27.. Reservations will be taken Monday through Friday from 8:30 a.m. to 4:30 p.m. Payment can be made over the phone at (973) 743-9074 via credit card or paid by cash, check or credit card in person at the Bloomfield Civic Center, 84 Broad Street.
###