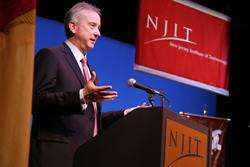 Newark, NJ (PRWEB) June 17, 2015
Brian A. Nadzan, of Cortlandt Manor, New York, received an Alumni Achievement Award from New Jersey Institute of Technology (NJIT) on May 16, 2015.
Nadzan currently serves as the Chief Development Officer at Trading Screen, Inc. and has spearheaded development in electronic trading, front office trading systems, position and risk management, compliance, settlements and clearing and has stayed on the forefront of global markets and financial technology in a career that has spanned management, technology and marketing. From 2005 to 2009, he served as a Director of Development at Lava Trading, where he was responsible for the development and product strategy of its global multi-asset EMS, which delivered market access, order management and analytics to the buy side community. From 1992 to 2005, he served as a Managing Director at Bloomberg LP, where he was responsible for all aspects of software development, client support, and product direction for all trading applications. While at Bloomberg, he pioneered development within electronic trading, developed the company's first order management system and launched numerous innovative applications for the capital markets financial community.
Nadzan graduated from NJIT in 1985 with a bachelor's degree in computer and information science. He currently serves as a member of NJIT's College of Computing Sciences Board of Visitors.
The Alumni Association of NJIT advances the interests of the university and generates support through the development and implementation of programs, activities, and events for its alumni members and friends. The Association's goal is to facilitate success – in fostering NJIT pride, building Highlander traditions, helping alumni develop opportunities for the university's students, and acknowledging the accomplishments of NJIT graduates in our society. For more information, visit http://www.njit.edu/alumni/index.php
About NJIT
One of the nation's leading public technological universities, New Jersey Institute of Technology (NJIT) is a top-tier research university that prepares students to become leaders in the technology-dependent economy of the 21st century. NJIT's multidisciplinary curriculum and computing-intensive approach to education provide technological proficiency, business acumen and leadership skills. With an enrollment of more than 10,000 graduate and undergraduate students, NJIT offers small-campus intimacy with the resources of a major public research university. NJIT is a global leader in such fields as solar research, nanotechnology, resilient design, tissue engineering, and cyber-security, in addition to others. NJIT ranks fifth among U.S. polytechnic universities in research expenditures, topping $110 million, and is among the top 1 percent of public colleges and universities in return on educational investment, according to Payscale.com.