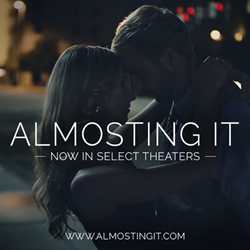 I never planned on acting, but I figured it would be the only way to be sure the lead actor was there every day.
Idaho Falls, Idaho (PRWEB) July 24, 2015
It is announced today that new feature film, "Almosting It", will be used as the kick off for Carmus Jamboree 2015 festivities. Director Will von Tagen and Producer, Mike Tetro, will attend the special screening held at Paramount Theater in Idaho Falls, August 13, 2015 at 6pm. http://www.almostingit.com.
Carmus Jamboree Promoter, Christine Campbell states, "Our festival includes music, artisans, crafters, and now the Carmus Film Festival. We will be selecting a film each year, and include a special screening, so film enthusiasts can have the chance to meet the creators in person. We are excited to have Idaho based film "Almosting It" to be our first one!"
William von Tagen, writer, director and actor in "Almosting It', explains how it started, "The film was never meant to be as big as it became. It is based on a short story I wrote four years ago in college. We originally thought it would be done over the course of a year, shot on weekends with available cast and crew. That's how I ended up playing the lead (I never planned on acting) but I figured it would be the only way to be sure the lead actor was there every day. Then things progressed and it got bigger and bigger and now it's something we can all be excited and proud of."
Lee Majors was chosen for the lead role the dramatic comedy, and film director "Will" explains the benefit of working with the "Million Dollar Man", "Lee is a rock star. Having him on Set brought a lot to the show beyond what you see on the screen. As a veteran of film, he had lots to offer and did a great job of making everyone feel we were doing something worthwhile. Things definitely felt more relaxed on the days we had him on set--which was the opposite of what I was expecting. He just did a great job of making us feel comfortable. And he rocks a close-up like no one else!" Cast and Crew.
Mike Tetro, Producer of Marketing and Distribution (PMD) for Almosting It, mentions, "My favorite part of this project so far is hearing all of the positive feedback from the local community. Creating something of this magnitude takes hard work and support, and it makes me happy that the film has successfully gone from a script to being completed and now screening in it's home state."
As for another movie in the mix, William von Tagen announces, "I can't say a whole lot until we know we are ready to make the official announcement, but the next film is very much on the radio. What I can say is that it will be a bit more of a drama, it will be a period piece, and it will take place and be photographed in Idaho. It's an exciting, high octane story that should be a lot of fun for audiences and I am very excited about shooting it next summer/fall."
Carmus Jamboree 2015 is a family festival that includes seven fairs and thirty events helping thirty charities. Carmus Film Festival is the newest addition and will include short films under 7 minutes to be judged in a variety of categories. The local Kiwanis Club will receive a percentage of funds to go towards single parents education scholarships.
http://www.carmusjamboree.com.
Date: August 13, 2015
Time: 6:00 PM
Place: Paramount Theater, Idaho Falls, Idaho
SYNOPSIS: With the help of a retirement home playboy (Lee Majors), a dissatisfied young Sci-Fi writer works to better his life while trying to navigate his relationships with three very different woman. Drama/Comedy – 86 minutes – Rated PG
Film Distribution Contact: Mike Tetro - tetroproduction(at)gmail(dot)com