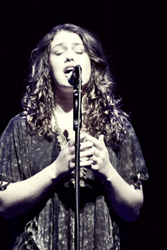 "When Sage was ten years old she belted out "Don't Stop Believing" in such a powerful, and mesmerizing voice that she shocked the entire audience."
Idaho Falls, Idaho (PRWEB) August 27, 2015
It is announced today that Sage Patchin is the winner of Carmus Jamboree 2015 Sing It On Competition. She made it through the preliminaries, competing with fifteen other individuals, and taking the stage for the final Sing It On Win.
Sage Patchin is an up and coming singer from a small town in Idaho. Her unique ability to emotionally connect with her music brings a real authenticity to the listening experience of her audience. Being from such a small town with limited opportunities, Sage is thrilled to have the chance to travel to Nashville to record after winning the Carmus Jamboree Sing It On Competition. Sage already has a huge fan club with a large extended family cheering her on as well as so many friends and people who love her in her community.
Sage's Mother, Chelise Patchin states, "Sage has loved music from the time she was a baby and she started singing as quickly as she learned to talk. She was always willing to perform for her family and her parents loved to show her off. One of her kindergarten teachers once said "I always know when Sage is coming", because she would sing everywhere she went. Something that stood out about Sage from a very young age was her big booming voice. She has a natural ability to project and fill any space that she is in. She has always had a natural instinct when it comes to inflection and knows how to reach her audience."
Chelise continues, "Sage is a sophomore in high school and participates in many activities, including drama, show choir, debate, yearbook, honor society, and service groups, but her favorite things to do have been singing and sports. She is a very competitive athlete and even gave the boys a real run for their money playing as one of the only girls in the flag football league. Currently, she is on the volleyball team at school as well as participates on a travel team in the off season."
Sage's parents started her in voice lessons after they heard her perform a solo at her class choir concert when she was about ten years old. Her mother explains, "She belted out "Don't Stop Believing" in such a powerful, and mesmerizing voice that she shocked the entire audience. It was then that I knew we needed to start providing opportunities for her to let her talent take off."
Since then Sage has been performing at anything she can including Christmas festivals, sporting events, rodeos, fairs, and talent shows, as well as singing the National Anthem at both a national volleyball qualifying tournament and at a local minor league baseball game. She recently wowed her audience with her beautiful soprano voice as the Reverend Mother in the Sound of Music.
Sage Patchin has been inspired by many artists but one of her favorites is Sia. "Sia has a sound that is so unique," I love the artists who don't sound like they are trying to copy someone else. I hope to be able to create something with my voice that is as recognizable as what Sia does."
She is also very impressed with Taylor Swift and her ability to write lyrics that are relevant. Sage explains: "Taylor Swift is able to take experiences from her own life and tell a story that makes you say, "Yes, I know exactly what she means," even though that might mean something different to everyone."
Carmus Jamboree 2015 Sing It On Competition Winner Sage Patchin will be taking a trip in the late fall to Nashville, to be mentored and recorded at a professional studio.