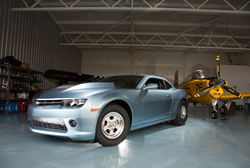 Cavalier Performance Cars are built to NHRA racing specifications.
Grayslake, Illinois (PRWEB) May 22, 2015
Northern Illinois based Cavalier Performance Cars, aka Cavalier Productions Inc., launches their new Cavalier Camaro program. The Cavalier Camaro represents the first in a series of High Performance, late model muscle cars which will also include the Cavalier Challenger and the Cavalier Mustang.
Cavalier Performance Cars are built to NHRA racing specifications. The company maintains a state-of-the-art automated design and engineering center, materials and parts warehouse, and fabrication and assembly facility. The engineered modifications include a 12 point NHRA certified roll cage, numerous weight reducing alterations along with additional supporting members added to increase vehicle strength, racing seats with 5 point racing harnesses, custom built engines and transmissions for maximum performance, and replacing independent rear suspension assemblies with a solid rear axle designed to handle the enormous amount of horsepower delivered from multiple engine configurations.
The company begins taking orders on the custom built performance cars beginning next week. Yearly production is limited and all vehicles will be offered on a first come, first serve basis. Company founder and President Jeff Tietz explains that "The entire process from initial consultation, to working with our team to create a performance car tailored to the individual customer needs, to hearing the sound of the engine for the first time are all a part of the Cavalier experience".
The Cavalier Camaro will be making appearances this summer at local shows, drag races and special events that cater to auto enthusiasts who are looking for something unique. For additional information on the Cavalier Camaro and other American muscle car programs, visit: http://www.cavalierperformancecars.com