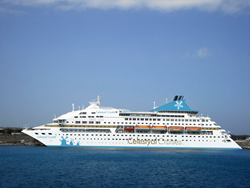 When travelers sail with Celestyal Cruises, they expect a real, authentic Greek experience, and that's exactly what our themed cruises provide
Aventura, Florida (PRWEB) January 31, 2015
Celestyal Cruises introduces 2015 themed cruise calendar and brochure, featuring 64 themed cruises that present the best of the real, authentic Greek experience. Themed events highlighting the region's archaeology, culture and heritage, gastronomy, wines and spirits, history and music make each cruise experience unique.
"When travelers sail with Celestyal Cruises, they expect a real, authentic Greek experience, and that's exactly what our themed cruises are designed to do," says Nicholas Filippidis, Director of Product Development in North America for Celestyal Cruises. "We're pleased to present a comprehensive calendar of 64 themed cruises in 2015 designed to provide an immersion into the best of Greece, an invitation to live 'Kalimera' with us."
"Each sailing has immense added value with a unique, themed cruise program that takes travelers deeper into the culture, cuisine, history, mythology, archaeological sites, centuries-old local customs, song and dance, and much more. Celestyal Cruises is the only home porting cruise line in Greece – the Aegean is our home, and the world-renowned hospitality of the people of Greece is at the core of everything we do," continued Filippidis.
The line's 64 themed cruises are designed to take travelers deeper into breathtaking destinations, to share the incredible centuries-old stories. After extensive research, the new themed cruises have been developed to include something for everyone. Plus, these unique enhancements are all included in the price of the cruise.
"We know our travelers want to do more than just visit unique destinations; they want to experience it like a local. They want to taste the authentic flavors and see how traditional Greek dishes are prepared. They want to walk among the archeological marvels from ancient times and they want to hear the sounds of this storied land first-hand. This is what our cruises offer and much more."
With such a vast array of themed cruises to choose from, travelers can opt to: hear the unique sound of bouzouki and the other authentic Greek instruments while dancing the night away; follow the course of Greece over more than four millennia, through Greek songs, dances, myths and more; enjoy an authentic Greek culinary experience, emphasizing the cuisine of the Aegean, via seminars, interactive cooking demonstrations and tastings, all drawn from the local cuisine of each Louis Cruises destination; celebrate Greek wines and spirits with more than 4,000 years of rich history to savor… All of this and much more awaits travelers on Celestyal Cruises' themed cruises.
For further information to request a copy of the Themed Cruises calendar & brochure, or to order the 12-page, 2015 Celestyal Cruises brochure showcasing the line's itineraries, sailing dates and vessel deck plans, call (877) 337-4665 send an e-mail to cruising (at) celestyalcruises.com or visit the company's web site at: celestyalcruises.com.
About Celestyal Cruises:
Celestyal Cruises is the preeminent cruise line for the Greek Islands and Turkey. The brand operates a fleet of two ships sailing from the two major ports of Athens, Piraeus and Lavrion. From Piraeus and Lavrion, Celestyal Cruises sails to Chios, Crete, Ios, Kos, Milos, Mykonos, Patmos, Rhodes, Samos, Santorini, Symi and Syros, and to the Turkish ports of Cesme, Istanbul and Kusadasi. In addition to Piraeus and Lavrion, our passengers can create their own stay & cruise vacations, with embarkation for three-, four- and seven-day cruises from Kusadasi, Istanbul or Heraklion, Crete.
In 2011 the company became a member of Cruise Lines International Association (CLIA), a worldwide cruise industry alliance that promotes a safe, secure and healthy cruise ship environment. Louis Cruises was named "Passenger Line of the Year" during the annual Lloyds List Greek Shipping Awards in 2010 and has twice been the recipient of the Condé Nast Travelers Choice Award.
About Louis Group
Louis Group was founded in 1935 as a small travel agency. Today, Louis Group is one of the leading tourism organizations in the Eastern Mediterranean, with five cruise ships, 20 hotels in Cyprus and Greece and more than 5,000 travel professionals in its employ. The company hosts tens of thousands of travelers from all over the world year-round. In 2005, Costakis Loizou, Executive Chairman of Louis Group, was awarded the prestigious European Pioneer Award by the International Society of Hospitality Consultants for making an outstanding contribution to the industry by bringing cruising to a greater number of tourists. Louis Group is passionate about what they do and proud to create value and opportunities while offering the best of the Eastern Mediterranean to the world. For more information, please visit the Louis Group website.