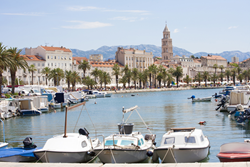 Possibly the best kept secret in the Adriatic, Croatia is a captivating European country boasting a year-round mild Mediterranean climate, rich cultural heritage, and stylishly cosmopolitan allure
Moonachie, New Jersey (PRWEB) August 28, 2015
With demand for travel to Croatia continuing to grow, Central Holidays is pleased launch its new "Come to Croatia" campaign focused on showcasing the country's diverse cultural influences, customs, natural wonders, and cuisine via the company's signature travel programs that emphasize authenticity.
"Possibly the best kept secret in the Adriatic, Croatia is a captivating European country boasting a year-round mild Mediterranean climate, rich cultural heritage, and stylishly cosmopolitan allure – and we at Central Holidays are thrilled to share this welcoming destination that appeals to travelers with all kinds of interests," said Gianni Miradoli, CEO of Central Holidays. Our new "Come to Croatia" campaign is focused on increasing awareness of Croatia's splendid diversity that has made it a popular vacation spot for jet-setters, yachting enthusiasts, and travelers from all over the world seeking exploration, culture, outdoor adventure, and delectable Mediterranean culinary treats."
On average this sun-soaked land basks in a splendid 2,600 hours of sunlight each year, earning it acclaim as one of Europe's sunniest seaside settings. With 1,778 kilometers of coastline, plus more than one thousand offshore islands, Croatia is an attractive travel destination. Its capital city, Zagreb, is justly known as the "city of museums," encompassing more museums per square foot than any other city across the globe. Along the Dalmatian Coast travelers will find exquisite towns and villages…from Dubrovnik to Split and beyond. Considered one of the best preserved medieval walled cities in the world, the Old City of Dubrovnik seems almost frozen in time. Here one can walk along the city's walls, delve into its resonant cultural heritage, savor the flavors of the Mediterranean tasting the area's food and wine, and make new friends as the warmth of the locals draw visitors into their world. Travelers to Split will enjoy the breathtaking views of the Adriatic Sea and its architectural scenery, discovering its storied history dating back 17 centuries, shopping the open-air markets and experiencing the area's trendy restaurants. For an equally exciting outdoor travel adventure, travelers can venture into the subterranean caves of Postojna and explore the breath-taking terraced lakes of Plitvice Lakes National Park.
-- Exploring Croatia "At Your Own Pace" with Central Holidays --
Central Holidays is pleased to give travelers the opportunity to live the treasures of Croatia on their many travel programs offered including its "Driving Through Croatia" vacation package, featuring an 8-day adventure to Dubovnik, Split, Zadar, Opatija and Zagreb. On this hosted itinerary, Central Holidays attends to all the details of the trip, including hotels, car rental, sightseeing per itinerary and more – but the traveler sets the pace.
Starting in Dubrovnik, travelers will delve into the major cities and bucolic countryside that speckle Croatia's glittery Adriatic coast at their own pace. A guided walking tour of Dubrovnik's "Old Town" takes them to admire the Rector's Palace, Bell Tower Clock, Orlando's Column, Sponza Palace, Dominican Monastery, and the Franciscan Monastery, home to one of the oldest pharmacies in the world. Next they drive along the gorgeous coast to Split an embark on a guided tour of the historic inner city that reveals examples of Roman, Gothic, and Renaissance architecture including Jupiter's Temple, the Peristyle, and the Cathedral. 90 miles away is iconic Zadar with a recommended stop at the quaint island town of Trogir along the way. Zadar brims with more than 3,000 years of history and culture. About 100 miles to the northeast is Opatija, best known for its beautiful Kvarner Bay. Then it is on to Zagreb, where a guided walking tour through the historical center takes travelers to explore its famous cathedral, Saint Marco Church, Saint Catherine Church, the Parliament, and the Government Palace. From the bright vivid blues of the Adriatic Sea to the art, architecture, history, diverse natural beauty and flavorful Mediterranean cuisine, Croatia presents travelers with riches for all to enjoy.
To see a complete list of the Central Holidays travel packages to Croatia and beyond for 2015-2016, please visit centralholidays.com.
About Central Holidays:
Founded in 1972, Central Holidays offers superior travel programs, value, and service to enchanting destinations across the globe. Destinations include Italy, Spain, Portugal, France, Cyprus, Greece, Turkey, and Croatia. The company also offers dozens of Mediterranean and European river cruise itineraries, worldwide ski programs, religious pilgrimage travel, as well as people-to-people educational exchange travel to Cuba! The company's sister brand, STI by Central Holidays, presents novel travel opportunities throughout Central and South America, Africa, and the Middle East. Central Holidays and its family of travel companies remain at the forefront of the global tourism and travel industry, offering the most diverse range of travel programs that support brand promises of reliability, expertise, and flexibility. For more information, contact Central Holidays at 1-800-935-5000 or visit centralholidays.com.
###