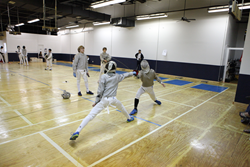 "We educate students who build friendships, here, and fence recreationally, while providing opportunities for those who seek scholarships and national or international competition," says David Arias, President.
Birmingham, Alabama (PRWEB) May 13, 2015
Birmingham Fencing Club's Summer Camps introduce youth to the basics of fencing. Classes cover footwork, handwork, rules and strategy, beginning with warm-up activities each day. BFC offers several camps throughout the summer, providing all necessary fencing equipment. The instructor for summer camps, Yuanjung Wang, led the Chinese National Fencing Team as head coach and is an internationally recognized fencer, coach, and referee.
BFC offers unique opportunities to experience a new sport. Fencing continues to gain popularity because athletes like Miles Chamley Watson and the Men's Olympic Foil Fencing Team have generated a ton of excitement for the sport. Right here in Birmingham, two coaches can be found, who offer their experience as Olympic Fencing Team Coaches and as Olympic Fencers. Each head coach at BFC was also a Chinese National Champion fencer. In addition to summer camps, Free Fencing sessions are offered during the first Saturday of each month at the Club location, 1581 Montgomery Highway, Suite 109, Hoover, AL 35216, next to Iron Tribe Fitness, between Golden Rule BBQ & Tameron Hyundai, off Highway 31.