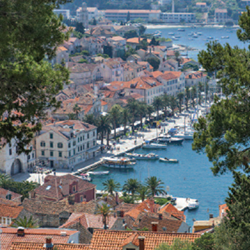 Travelers work together with their Central Holidays destination specialist to design their perfect travel package to Croatia with so many options offered via the When In Dubrovnik programs
Moonachie, NJ (PRWEB) April 30, 2015
Central Holidays is pleased to offer even more choices to experience Croatia that emphasize authenticity via their distinctive "When In Dubrovnik" packages. Part of the company's signature "When In" series, the exciting "When In Dubrovnik" travel package to Croatia enables travelers to choose their ideal travel opportunity starting with the "When In" base package as the base for tailor creating each traveler's dream trip featuring the options of: Travel In Simplicity, Travel In Style, or Travel In Luxury.
Travelers work together with their Central Holidays destination specialist to design their perfect travel package, commencing with 5-nights' accommodations in the traveler's choice of Dubrovnik city-center hotel with breakfast daily, as well as sightseeing, excursions and activities featuring tourist, first-class, and deluxe options to select from. Then travelers choose their ideal travel package options featuring an array of amenities and activities to make their vacation perfect for them.
Mediterranean climate, cobblestone streets, medieval city walls, baroque buildings, fresh local seafood dishes, and the sparkling Adriatic Sea set the scene for a storybook vacation in Croatia. On the "When In Dubrovnik" selection of travel packages, travelers will discover Dubrovnik's pedestrian Old Town and take-in the spectacular views over the town and sea as they walk along the city's ancient walls built between the 13th and 16th centuries. From the Pile Gate entrance and the Franciscan Monastery with its beautifully restored Pieta sculpture, to the Renaissance Sponza Palace and the Church of St. Blaise, amazing architecture and cultural heritage awaits. Beyond history and architecture, Dubrovnik boasts one of Europe's sunniest coastlines, resonant cultural heritage, and flavorful Mediterranean food and wine to be enjoyed. From the bright vivid blues of the Adriatic Sea to the warmth of the locals that draw visitors into their world, travelers are sure to relish their "When In Dubrovnik "vacation at every turn.
To see a complete list of the Central Holidays travel packages to Croatia and beyond for 2015-2016, please visit centralholidays.com.
About Central Holidays:
Founded in 1972, Central Holidays offers superior travel programs, value, and service to enchanting destinations across the globe. Destinations include Italy, Spain, Portugal, France, Cyprus, Greece, Turkey, and Croatia. The company also offers dozens of Mediterranean and European river cruise itineraries, worldwide ski programs, religious pilgrimage travel, as well as people-to-people educational exchange travel to Cuba! The company's sister brand, STI by Central Holidays, presents novel travel opportunities throughout Central and South America, Africa, and the Middle East. Central Holidays and its family of travel companies remain at the forefront of the global tourism and travel industry, offering the most diverse range of travel programs that support brand promises of reliability, expertise, and flexibility. For more information, contact Central Holidays at 1-800-935-5000 or visit centralholidays.com.
###