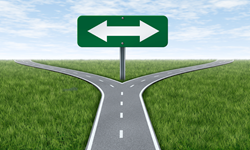 Critical thinking is thinking about your thinking while you're thinking in order to make your thinking better. ― Richard W. Paul
Houston, TX (PRWEB) January 13, 2015
Founder/President and Certified Six Thinking Hats® facilitator, Julyan Lee of The Leeward Team, LLC has reached a major milestone in enhancing the critical thinking skills of student athletes. The United States Office of Trademarks has officially registered the name of his program called Crossroads Decision®. This is an indication that this critical thinking program is here to stay. The Crossroads Decision® program addresses the inability of athletes to think clearly and evaluate a situation before they make life-changing decisions. To learn more about the Crossroads Decision® program, visit Crossroads Decision Critical Thinking Program for Student Athletes
"We understand the importance of critical thinking. We feel our program is a valuable piece of the puzzle that will ensure student athletes are armed with the tools to be successful both on and off the playing field. Having Crossroads Decision® trademarked makes a statement, It says we believe in our program, its relevance and the positive impact it will make in the lives of our young student athletes," Lee said.
"The problem with young folks making bad decisions isn't going away. It's just a matter of time before one of these student athletes makes a life changing decision and dire consequences occur. So, why not put something in place that will at least give them a chance to say, "what could go wrong with what I am about to do?" That simple thought process can be the difference in being suspended, dismissed, jailed, or even death," says Lee.
Not only does critical thinking make student athletes better decision makers in life, it has been proven to make a difference in athletic performance as well. A study published in the International Journal of Humanities and Social Science Vol. 3 No. 3; February 2013 states that every athlete should master certain critical thinking capabilities as a part of their thinking process. Mastering critical thinking skills increase athletes' self-confidence, self-esteem, and self-image. This could create a repeatable thought process that leads to better performance in athletic competition.
Source: http://www.ijhssnet.com/journals/Vol_3_No_3_February_2013/16.pdf
"Crossroads Decision® could lead to better decision making whether a student athlete is in the heat of athletic completion or about to make a life changing choice. Nevertheless, the time is now to prepare them as best we can," Lee stated.
If you would like to see first hand how this powerful program could benefit your student athletes, school or institution please send an email to The Leeward Team at info(at)leewardteam.com. In the Subject Line type "Crossroads Decision Information Request" and someone will respond to you immediately