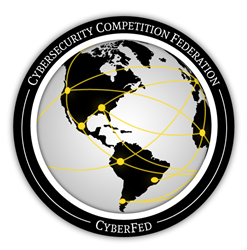 The CyberFed show is showcasing how the great teams are inclusive and made of hard work and collaboration.
Pomona, CA (PRWEB) March 09, 2015
The Cybersecurity Competition Federation (CyberFed) is helping to build awareness of cyber-games and is announcing a new webcast, The CyberFed Show. The CyberFed Show is a weekly produced series that highlights players of various ages and skill levels to emphasize the diverse talent necessary to play in cybersecurity competitions.
In the eyes of the public, cybersecurity specialists have just appeared out of thin air to protect the United States from hacking, identity theft and even acts of terrorism. Where do these cyber superheroes come from? The CyberFed website is shedding light on the starting point for anyone interested in participating in cybersecurity competitions. By producing The CyberFed show, CyberFed is educating future competitors, faculty and industry on competitions, participants and cybersecurity news.
"There is a stereotype among teenagers that kids with strong computer skills are outsiders," states Dr. Daniel Manson, Principal Investigator of CyberFed. "I am seeing firsthand that the numbers of players competing in cybersecurity competitions are increasing every year. The smart and creative kids with strong technical skills are the trendsetters who are building the clubs that others want to join. The CyberFed Show is showcasing how the great teams are inclusive and made of hard work and collaboration."
Just like any sport, cybersecurity takes training and practice. Competitors endlessly practice technique and form to become stronger cyber athletes. Cybersecurity competitions are absolutely necessary for cyber athletes to test their knowledge and skill in real-world scenarios.
The CyberFed website has a competition offering for everyone. Players can search competitions to find one best suited to their interest and skill level or they can find a competition by criteria such as offensive, defensive, forensics, challenge, in-person, virtual, high school, college or professional.
CyberFed is currently inviting all cybersecurity competitions to upload their information on this one-stop-shop website. Visit CyberFed.org to learn more about Regional and National Collegiate Cyber Defense Competitions, Cyber Patriot, Boston Key Party, Insomniíhack, Ghost in the Shellcode, HackIM, PlaidCTF, BTB Cup, MITRE Cyber Challenge and more.
The goal of CyberFed is to assist in the advancement of all cybersecurity competitions throughout the world. To register a competition, learn more about the various entry-points into a competition or have a competition highlighted on The CyberFed Show, visit http://www.cyberfed.org.
About Cybersecurity Competition Federation:
The Cybersecurity Competition Federation (CyberFed) is an umbrella organization that provides players of all ages and skill levels a point of entry into cybersecurity competitions. CyberFed focuses on communications, promotions and autonomy of competition creators, business models and does not interfere with funding sources. Each week, CyberFed produces The CyberFed Show that covers the world of cybersecurity competitons. To learn more, visit http://www.cyberfed.org.