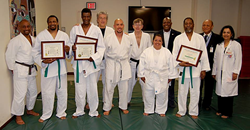 Unity is strength... when there is teamwork and collaboration, wonderful things can be achieved. Mattie Stepanek
(PRWEB) July 27, 2015
The Veterans Administration Hospital in Washington DC (DCVAMC) and their Visual Rehabilitation Clinic employing Judo taught by Mark Smith, a Black Belt and associate of the Blind Judo Foundation is turning wounded warriors into Warriors Again.
"There is no cost associated to the veterans for the Judo program as these veterans have already prepaid in full when they raised their hands to serve us all" says Mark Smith. But there are remarkable outcomes from Judo.
The Judo program started in 2010 only for blind and low vision veterans. In 2012, the program won a grant from VA.GOV which extended the Judo instruction services to additional special populations. The class is includes warriors suffering from TBI (Traumatic Brain Injuries) and PTSD (Post-Traumatic Stress Disorder).
The Blind Judo Foundation is privileged to have Mark, a federal contractor running the program as the head Judo Instructor employing his experience to enhance and empower our returning military men and women using Judo as the clinical tool.
In this clinical setting, Judo has proven that whether enjoyed simply as recreational sport, or seriously as an international Olympic / Paralympic sport, a very real therapeutic healing properties can be observed in patients.
"One of the purple heart PTSD patients has been able to eliminate his medications completely, proudly describing how his 'Judo mat therapy' has unquestionably extended his life," Mark Smith proudly advises.
Another member of the Blind Judo Foundation is Lori Pierce who recently became the Head Female Judo Coach assisting Mark Smith. Besides being a Black Belt in Judo, Lori brings another reality to our wounded warriors being blind since birth. Yet her disability has been turned into an ability using Judo as just one of the tools for success. Not only has she been honored with the U.S. Marine Corps Warrior Award but she was the first female member of the US Paralympic Judo Team and Silver Medalist from the 2004 Paralympic Games held in Athens, Greece.
"Collaborating an adaptive Judo event with the US Naval Academy and the VA Medical Center was extremely rewarding. Everyone felt a center of empowerment of what could be accomplished outside of Judo," says Ron C. Peck, Co-Founder of the Blind Judo Foundation. "We couldn't have had better representation by having Mark Smith and Lori Pierce.
DC Judo Club is the home of Mark Smith and Lori Pierce. Sensei Mark is a certified personal fitness trainer, a USA Judo International and Visually Impaired Coach and National Judo Referee. Sensei Lori was recently certified as a USA Judo Coach and has an impressive resume of her own as a Paralympian and World Champion in Judo. More about DC Judo can be seen online.
About us:
The Blind Judo Foundation is a nonprofit 501(c) (3) organization that introduces and trains blind and visually impaired children, young adults and returning blind and visually impaired military men and women in the sport of Judo. Supporting our blind athletes to train, travel and compete relies upon tax-exempt donations.
All members of the Blind Judo Foundation are volunteers. A select few of our elite athletes go on to represent the USA as members of the US Paralympic (not to be confused with Special Olympics) Judo Team. Ron C. Peck can be contacted at roncpeck(at)blindjudofoundation(dot)org or 1-425-444-8256.