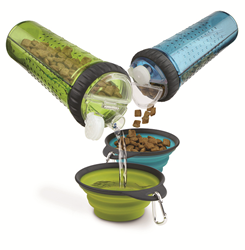 "There has never been a more practical, portable solution for carrying both food and water for your pet."
Coppell, TX (PRWEB) March 05, 2015
Dexas and Popware for Pets continue to rack up industry awards with new products that revolutionize how we keep our pets fed and properly hydrated while traveling or just on the go with their pet parents.
"Dexas and Popware™ for Pets have practically created a new category of pet travel products and the industry has responded," said Jeff Logan, Director of Marketing. "There has never been a more practical, portable solution for carrying both food and water for your pet – which is why we're so excited to present the Snack-DuO at Global Pet Expo, in Booth #1947.
Dexas and Popware for Pets will be exhibiting during the 2015 Global Pet Expo at the Orange County Convention Center in Orlando, FL, March 4-6, 2015.
The Snack-DuO™ with Collapsible Companion Cup is a truly unique innovation – the first reusable pet hydration bottle on the market with two side-by-side chambers. The Snack-DuO can transport both cool water and a crunchy snack or kibble within the same bottle cylinder. The two chambers each have a different lid configuration. There's a watertight "cap top" on the beverage chamber, and a wide-mouth snap lid covering the snack chamber. The Snack-DuO also comes with a matching, collapsible "Companion Cup" which can be used by the dog for either the water or the dry food or snack. And remember…just taking this relaxation break together is always an important bonding moment for pets and their parents!
The Dexas Snack-DuO is made even more versatile with the powerful advantages of Tritan™ copolyester from Eastman. Tritan material has set the industry standard for performance hydration bottles and is known for its clarity, safety and high-impact durability. Plus it is always BPA-free and dishwasher safe.

Materials: BPA-free, impact-resistant Tritan™ copolyester, TPE collapsible cup.
Capacities: 12 oz./360 ml in water chamber, 1.5 cups dry food storage in snack chamber
Available colors: lime green, purple and blue with grey housings
Watertight cap top, wide-mouth snap lid
Dishwasher safe, BPA free, safe for all food and beverage contact
Pet owners should always remember a few common guidelines for maintaining an active dog's correct hydration level. According to online reports from WebMD, PetMD and Dogster.com, proper hydration factors into nearly all aspects of canine health, including circulation, digestion and waste removal. As a general rule, adult dogs need at least one ounce of water per pound of body weight each day.
Dexas and Popware for Pets are also excited to release vibrant new colors coming to the mass line of Popware for Pets' collapsible pet bowls, travel cups, mats and accessories that can be used at home and on the go.
Based on popular, collapsible kitchen tools designed and manufactured by Dexas, Popware for Pets products are the unique solution to pet feeding and watering needs, while being easily collapsible, washable and portable. The Popware for Pets line is available in stores and online at Petco, PetSmart, Bed Bath & Beyond, The Container Store, Cabela's and many other pet boutiques and specialty retailers.
About Dexas:
Since 1969, Dexas International Ltd. has provided innovative kitchenware to the world's largest, leading retailers and specialty retailers. The company is a leading manufacturer of cutting boards, kitchen tools, gadgets and silicone heat-resistant items. Its transformative-designed products stimulate the home chef's culinary creativity through healthier eating. Dexas also designs and manufactures innovative office and pet products. The company is based in Texas in the Dallas/Ft. Worth area and is proud to manufacture a large majority of its poly products in the United States.
For more information, visit http://www.popwareforpets.com or http://www.dexas.com for innovative products for the kitchen, office and pets. Follow Popware for Pets on Facebook.
About Eastman Chemical Company, maker of Tritan™ copolyester:
Eastman is a global specialty chemical company that produces a broad range of products found in items people use every day. With a portfolio of specialty businesses, Eastman works with customers to deliver innovative products and solutions while maintaining a commitment to safety and sustainability. Its market-driven approaches take advantage of world-class technology platforms and leading positions in attractive end-markets such as transportation, building and construction, and consumables. Eastman focuses on creating consistent, superior value for all stakeholders. As a globally diverse company, Eastman serves customers in approximately 100 countries and had 2014 revenues of approximately $9.5 billion. The company is headquartered in Kingsport, Tennessee, USA and employs approximately 15,000 people around the world.
For more information about Eastman Tritan™ copolyester, visit http://www.eastman.com or http://www.eastman.com/tritan.
Reference: Dogster.com, WebMD, PetMD, Popware for Pets.com, Dexas.com, Eastman.com