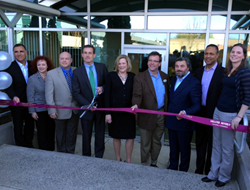 Beverly, MA (PRWEB) May 22, 2015
On April 15th, DESSANGE Group North America (DGNA), headquartered at 500 Cummings Center in Beverly, MA, welcomed local officials, executives in the beauty industry and franchise industry, members of the Board of Directors and select press to their new offices for a French Fête.
The celebration centered around a ceremonial ribbon cutting with Beverly Mayor, Michael Cahill, the Greater Beverly Chamber of Commerce, and Cummings Properties. Also celebrated was the new creative collection for upscale and luxury salon brands, Camille Albane Paris and DESSANGE Paris. The event included European aperitifs, group photo opportunities along the famed DESSANGE country wall, and a Welcome Toast by DESSANGE International Chairman, Benjamin Dessange and DGNA's new President and CEO, Linda Chadwick.
About DESSANGE Group North America
DESSANGE Group North America is a division of DESSANGE International, the world leader in luxury hairdressing, which was established in 1954 and has operations in 38 countries. The three salon brands, Fantastic Sams Hair Salons, Camille Albane Paris and DESSANGE Paris are operated in the US by DESSANGE Group North America. DESSANGE Paris provides customized and luxurious global beauty services with glamour, elegance and style. Camille Albane Paris provides elite hairstyling, coloring and make-up for today's dynamic and fashion forward woman. Fantastic Sams provides trend-right salon services, advice from stylists your trust at a value you'll appreciate. In addition to services, each brand retails a private label professional product line manufactured to the highest standards and sold exclusively in the company's salons.