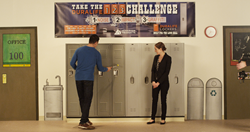 I can't believe what I was able to do to the Duralife Lockers- smashing them with a hammer without damage, writing on them with permanent markers and having it all come off. I was amazed.--John Nittolo, Superintendent, Green Twp. NJ School District
Scranton, PA (PRWEB) June 10, 2015
As if school lockers don't get enough abuse, imagine taking a steel hammer to them! That is exactly what Scranton Products had a group of school professionals do to prove a point in the "Duralife Locker 1-2-3 Challenge," which compared traditional metal to Duralife® HDPE plastic hallway lockers, for 1 Noise, 2 Impact and 3 Graffiti. A series of eight Duralife Challenge videos will be released from now through November 2015.
While cameras rolled to capture the action, a superintendent, teachers, students, PTA members and facility managers attacked the lockers with the full force of a hammer as well as wrote graffiti and put stickers on them--then tried to remove it all without damaging the lockers. The results opened many eyes to the durability HDPE has over metal!
In addition, a Challenge Kit which invites you to use a hammer to test metal vs. Duralife and a permanent marker to try to simulate graffiti are offered at http://gwpinc.com/taketheduralife123challenge/duralifechallange.html.
The first video released in May 2015 features John Nittolo, Superintendent of the Green Township, NJ, School District. "I can't believe what I was able to do the Duralife Lockers," he said, "smashing them with a hammer without damage, writing on them with permanent markers and putting stickers on them—and having it all come off. I was amazed." The metal lockers did not fare as well-- they were three times louder and dented when Nittolo hit them and he could not get the graffiti or stickers completely off.
Designed for the daily demands of a school environment, Duralife Lockers are American-made solid HDPE, engineered for strength and durability. As the 1-2-3 Challenge showed, HDPE outperforms metal lockers at a comparable price point, providing years of everyday low maintenance. Available in several design options and15 beautiful colors and custom color options, the lockers have a color-throughout formula that resists scratches. The non-porous surface resists odors, mildew, mold and bacteria, for easy cleaning and maintenance. They are also three times quieter than metal lockers.
Fire rated under NFPA 286, they are also GREENGUARD Gold Certified for Children & Schools, for improved indoor air quality and contribute to a project's LEED certification. They are made with recycled materials and are 100% recyclable.
To learn more about Duralife Lockers visit http://www.scrantonproducts.com or to see the Challenge in action, visit http://gwpinc.com/taketheduralife123challenge/duralifechallange.html
About Scranton Products:
For more than 25 years our premium brands have led the plastic partitions market setting new benchmarks for the industry in quality and delivery with brands including Hiny Hiders®, Resistall™, Tufftec® and Duralife®. They feature the most durable, low maintenance and best looking partitions, lockers and industrial sheet products in the industry. They won't dent, rust or need painting, and because they have color throughout, delamination is not a factor. For more information, visit http://www.scrantonproducts.com