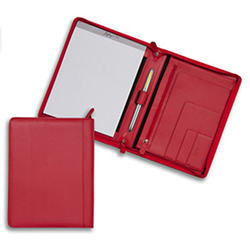 This beautiful left-handed portfolio is a pleasure to hold, and makes an elegant statement.
San Francisco, CA (PRWEB) January 30, 2015
Lefty's the Left Hand Store Presents their new Eco-Leather Left-handed Portfolio Collection. Designed in 3 colors, and two different styles, these great-looking left-handed portfolios are life-savers for lefty business people or students.
Right-handed portfolios have the writing pads on the right side. Left-handers can't use them without either resting their arms on the papers and business cards on the left side, or turning the portfolios upside down. Plus, they have to insert papers and cards into sleeves from the right, with their weaker hands.
Ergonomic difficulties make a big difference! Left-handers literally think better when they have left-handed notebooks, portfolios and writing equipment. Lefty's has numerous testimonials from customers who are remarkably grateful and report a variety of successes.
Lefty's has researched fabricators and fine-tuned the design of these padfolios over a number of years. By comparing similar products for right-handers and focus-grouping the designs with lefties who test layout and performance, Lefty's has developed a product that works for almost everyone. With room enough for a digital tablet, an insert for a legal pad, a special pocket for business cards, and several other sleeves, these portfolios are both incredibly useful and very handsome.
Customers appreciate the attractive designs, the soft material, and the variety of colors and interior finishes. Available in black, a chocolate brown, and a vibrant red, the padfolios come either zippered or as folders. The eco-leather, a vegan product that is softer, more durable, and easier to clean than animal leather, is softly pebbled and a pleasure to hold.
Lefty's has developed a substantial line of custom products designed exclusively for left-handers. The Eco-Leather Padfolio Collection is the latest addition and one of the most popular.
Visit Lefty's retail stores in Pier 39, San Francisco; Downtown Disney in Walt Disney World, FL, or Old Town Kissimmee.