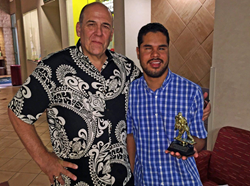 Unity is strength... when there is teamwork and collaboration, wonderful things can be achieved..... Mattie Stepanek
Redmond, WA (PRWEB) August 10, 2015
Those who succeed in Judo learn early that attitude, practice, determination and dedication are only the start of becoming a Judoka (Judo athlete). Edgar Cabachuela, twenty-seven years ago entered the world premature at only five months. Oxygen to a new born is essential but can cause blindness. Edgar was no exception.
Fortunately, Edgar has loving parents and a supportive family who welcomed him to the world. They were ready to support him along his journey by helping him to grow up "normal." He was enrolled in sighted schools which provided understanding, encouragement and support for a blind student among the sighted.
Bullying, unfortunately, among people with disabilities is more prevalent than those without disabilities, reports Pacer's National Bullying Prevention Center. This epidemic did not usurp Edgar, yet he had many friends who were able to recognize the problem and befriended him as safe-guards against bullying.
At two years of age, Edgar started showing musical talents and mimicking singers like Whitney Houston and others he heard on the radio and television. Obviously, his family was thrilled to see their son blossom. They envisioned a talent lasting a life time.
Today, Edgar continues blossoming with all forms of music and musical instruments playing in a Mexican-style band and just recently in a Cuban band. Judo is now a part of his mission and goal as he trains for a seat on the 2020 US Paralympic Judo Team.
Physical activity for blind people is usually limited or in some cases not existent at all. Edgar is an exceptionally talented person who is changing that paradigm and adding Judo to his skill-set.
Doing some sports research, Edgar quickly learned about the Blind Judo Foundation and their success in working with blind and visually impaired individuals employing the sport of Judo.
Ron C. Peck, a Co-Founder of the Blind Judo Foundation, introduced Edgar to Sensei Gary Goltz, President of the US Judo Association (USJA). Goltz introduced Edgar to a Dojo (Judo gym) called Industry Sheriffs Judo Club, starting his journey into the Judo world. There was some hesitance at first, working with a blind person, but the fear didn't last long.
Head Instructor Sensei Butch Ishisaka and Sensei David Matutte of the Dojo personally took Edgar under their wings. They worked closely with him in the basics of Judo. After many months of hard work, his instructors felt he was ready for "prime-time" and entered Edgar into his first sanctioned Judo tournament competing against a sighted Judoka (Judo athlete). To the pleasure of his fellow Judoka, along with Sensei's Butch and David, Edgar won second place in his first official tournament. Both instructors walked Edgar to the winners stand to receive his first trophy. What a proud moment.
"What the mind of man can conceive and believe, it can achieve," says Ron C. Peck of the Blind Judo Foundation.
Edgar's commitment to compete at the 2020 US Paralympic Games is ongoing. He has been training three times per day at home and five hours one day a week at the Judo Club. The vision of representing the USA at the 2020 Paralympic Games and becoming a member of the US Paralympic Judo Team is coming into focus.
About Us:
The Blind Judo Foundation is a nonprofit 501(c) (3) organization that introduces and trains blind and visually impaired children, young adults and our returning blind and visually impaired military men and women in the sport of Judo. Supporting our blind athletes to train, travel, attend camps and compete relies upon tax-exempt donations.
All members of the Blind Judo Foundation are volunteers. A select few of our elite athletes go on to represent the USA as members of the US Paralympic (not to be confused with Special Olympics) Judo Team. Ron C. Peck can be contacted at roncpeck(at)blindjudofoundation(dot)org or 1-425-444-8256.