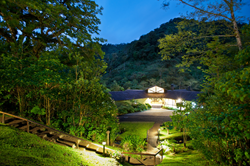 Earning the Relais & Châteaux imprimatur places El Silencio Lodge & Spa and Costa Rica among a collection of the world's best hotel and culinary destinations.
Bajos del Toro, Costa Rica (PRWEB) January 28, 2015
El Silencio Lodge & Spa has been recognized as a world-class model of hospitality by Relais & Châteaux, a collection of the world's finest independent hotels and restaurants. Relais & Châteaux's by-invitation membership entails a rigorous incognito evaluation process that celebrates the "5-C's": Character, Courtesy, Calm, Charm & Cuisine.
"The Relais & Châteux imprimatur is the best acknowledgment of the beauty of our location, the comfort of our facilities, our singular menu, and the extraordinary hospitality of our team," said Karin Zurcher, Owner of El Silencio Lodge & Spa. "This development affirms our signature commitment to personalized details, cultural authenticity, and a planet-friendly, people-positive model. Placing Costa Rica and Central America in the top rungs of excellence signals the region's growth as a premium travel destination, appreciated not only for its natural riches but for its culinary offerings."
Flanked by two national parks in Costa Rica's Bajos del Toro district, El Silencio Lodge & Spa is raising the bar on the country's authentic cuisine by updating traditional dishes and cooking techniques. Its Las Ventanas Restaurant relies on fresh local ingredients –many sourced in situ. Guests can actively participate in the culinary experience by fishing for trout, picking vegetables, collecting free-range eggs, or venturing out to a community market before enjoying fun interactive cooking sessions with the Chef.
Relais & Châteaux's announcement follows El Silencio Lodge & Spa's 2014 inauguration of an Adventure Park, the development of immersive cultural experiences, and the expansion of its organic mini-farm.
About El Silencio Lodge & Spa
El Silencio Lodge & Spa is an inspired wellness retreat set in Costa Rica's pristine central volcanic region. Surrounded by emerald cloud forests and mystical waterfalls, it offers a seamless natural immersion experience that showcases the signature elements of Costa Rica's rural traditions, colorful culture, farm-to-table dining, and enthralling natural landscapes. For more information or reservations: +506 2231-6122 | http://www.elsilenciolodge.com
About Relais & Châteaux
Established in 1954 with the goal of spreading a unique art of living mantra across the globe, Relais & Châteaux is an exclusive collection of more than 530 of the finest charming hotels and gourmet restaurants managed by a family of independent owners, innkeepers and chefs that has set the standard for excellence in hospitality. Through each individual property, Relais & Châteaux wishes to convey a message of preservation of nature, biodiversity, cuisine heritage, and unique customs. For more information, visit http://www.relaischateaux.com