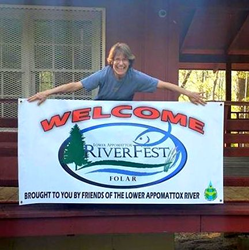 This was a great example of the positive momentum that is building in the region and we truly appreciate the many supporters and participants who made this event a success.
Petersburg, VA (PRWEB) April 30, 2015
Despite the rainy weather, Friends of the Lower Appomattox River (FOLAR) hosted a family fun and adventure event on the river April 25. The event, which celebrated the heritage, nature, and recreational offerings of the Lower Appomattox River, was held at the historic Ferndale-Appomattox Riverside Park in Dinwiddie County near Petersburg, VA.
Featured activities offered throughout the day included trail hikes, youth fishing workshops, kayak and canoe paddling lessons and a batteau exhibition. Batteaux were flat-bottomed, shallow draft boats used in Colonial times, especially in the fur trade.
Visitors also enjoyed the many organizations present who shared information and expertise on a wide range of topics such as watershed protection, gardening, aquaculture, wildlife enjoyment, soil management, blacksmithing, local history, fitness, forest fire prevention and local parks and tourism.
As one event participant commented, "We had the best time and everyone was wonderful while teaching and patiently helping the children learn great things about our rivers and their inhabitants."
The event was a community effort to bring together several highly respected regional organizations and experts to provide high quality, informative and entertaining programming in a beautiful natural setting. Wayne Walton, FOLAR's Chairman, said "This was a great example of the positive momentum that is building in the region and we truly appreciate the many supporters and participants who made this event a success. FOLAR is truly a regional success story."
FOLAR has a lot of experience in bringing the together the Lower Appomattox River communities to deliver successful, cooperative projects. During the past 13 years, FOLAR has been developing and maintaining the Regional Greenway/Blueway Heritage Trail along the Lower Appomattox River. The trail system is 22 miles long with seven boat access points, 12 miles of walkable riverside trails and 11 riverside parks - all of which FOLAR created, improved or maintains through its network of volunteers and donors.
Sponsors and donors were key to the success of RiverFest, including Walmart, Virginia American Water, RockTenn, Columbia Gas of VA, Vulcan Materials, and the Appomattox River Soil & Water Conservation District. Additional funding for promotion of the event was provided by a Virginia Tourism Corporation Marketing Leverage Program grant. FOLAR partnered with Petersburg Area Regional Tourism (PART) and Eco Trek Adventures-River Tours & Rentals, to match the state grant funds. All proceeds from the event will go toward FOLAR's conservation and stewardship programs. Wendy Austin, FOLAR's acting Executive Director commented, "The park, river, canal and trails were a beautiful setting for the many fascinating and fun exhibits, experts, and activities. Great thanks to everyone who helped make it a wonderful day."
About Friends of the Lower Appomattox River (FOLAR)
FOLAR is the only organization in the region dedicated to conserving and protecting the natural, cultural, and recreational resources along the Lower Appomattox River which flows on a continuous route through six central Virginia jurisdictions from Lake Chesdin, a 3,100 acre reservoir straddling Chesterfield and Dinwiddie Counties in South Central Virginia, through Petersburg, Colonial Heights, and Prince George County to the confluence with the James River at historic City Point in Hopewell. FOLAR has served the region as a registered 501c3 nonprofit organization since 2001. It is sponsored by the Crater Planning District Commission (CPDC). Proceeds from the RiverFest event will help FOLAR work to improve parks, establish trails, access the river, and protect special places through its River Stewardship-Education Programs, Water Quality programs, and the construction of the Greenway and Blueway Heritage Trail.
Additional information can be found at http://www.Folar-va.org or email, GetInvolved(at)folar-va(dot)org or call (804)-861-1666.