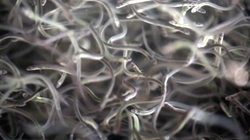 ... the species enjoys high standards of management and a positive outlook for continued sustainability.
Washington, DC (PRWEB) March 30, 2015
This week marked the opening of the 2015 glass eel fishing season as well as a milestone of more than ten years of improvements to the American eel stock and its habitat. A decade of unprecedented worldwide attention and action has allowed glass eel, the juvenile form of American eel, to repopulate previously blocked habitats and maintain a decades-long stable level of recruitment. Given the success of the species and improvement in its management, the American Eel Sustainability Association (AESA) urges the U.S. Fish and Wildlife Service (USFWS) to acknowledge the American eel is healthy and not endangered.
Through partnerships with state and federal officials, the international scientific community, and regulators at the Atlantic States Marine Fisheries Commission (ASMFC), AESA is proud to have led significant efforts in improving the American eel fishery and its habitat from characterizations such as "Eels at the Edge" at the International Eel Symposium in 2003 to positive perspectives like "Eels climbing back up the slippery slope" in 2014. Through increased habitat access, conservative quotas and harvest caps, improved reporting requirements, and continued enforcement efforts, the species enjoys high standards of management and a positive outlook for continued sustainability.
As chronicled in AESA's new video, "Eels on the Rise," glass eel fishermen now hope to create a domestic eel aquaculture industry within the boundaries of current harvest limits in both the United States and Canada. Currently, glass eels are predominantly sent to Asian countries for farming and processing. Domestic fishermen look to bring that industry and those jobs back to North America. AESA encourages government officials on both sides of the border to support these efforts and promote collaboration among the interested parties. The ASMFC has already created mechanisms for a special aquaculture quota, and a U.S. domestic industry can foster international standards and cooperation for eel aquaculture.
Despite ten years of demonstrated, continuing improvement to the stock and its habitats, the branding of "endangered species" labels still haunt and handicap this sustainable industry. The USFWS is considering listing American eel under the Endangered Species Act even with substantial evidence that the species is consistently improving and not in danger of extinction. AESA strongly urges USFWS and other organizations to celebrate successes in sustainability for the species and reaffirm the American eel is not endangered.
About the American Eel Sustainability Association
By providing the industry and interested parties with essential information and fostering innovative partnerships, AESA provides science-based solutions to achieving eel sustainability. AESA works collaboratively with partners in U.S. government agencies, foreign government fisheries management departments, private companies, international organizations, fishermen, and individual members of the public.