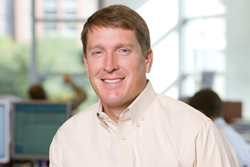 We appreciate the recognition of our strong beginning and the tremendous effort and passion of our entire team.
Salt Lake City, UT (PRWEB) June 10, 2015
EY announced that Grandeur Peak Global Advisors received the EY Entrepreneur Of The Year® 2015 Award in the Services category for the Utah Region. The award recognizes outstanding entrepreneurs who demonstrate excellence and extraordinary success in such areas as innovation, financial performance, and personal commitment to their businesses and communities. Grandeur Peak Global Advisors, and its founders Robert Gardiner, Blake Walker, and Eric Huefner were selected by an independent panel of judges, and the award was presented at a special gala event at The Grand America Hotel on June 6, 2015.
"It's an honor to be selected for this prestigious award," said CEO Robert Gardiner. "We set out in 2011 to create a world-class equity investment firm with a uniquely global view of smaller companies across the globe. We appreciate the recognition of our strong beginning and the tremendous effort and passion of our entire team. We hope through our pursuits we can create a firm that truly delivers something special for our clients, something special for our team, and something special for our local and global community."
Now in its 29th year, the program has honored the inspirational leadership of such entrepreneurs as Howard Schultz of Starbucks Coffee Company, Pierre Omidyar of eBay, Inc., and Mindy Grossman of HSN. Recent US national winners include Reid Hoffman and Jeff Weiner of LinkedIn; Hamdi Ulukaya, founder of Chobani; and 2014 winner Dr. David Hung, President and CEO and Chairman of Medivation.
As a Utah Region award winner, Grandeur Peak Global Advisors is now eligible for consideration for the Entrepreneur Of The Year 2015 national program. Award winners in several national categories, as well as the Entrepreneur Of The Year National Overall Award winner, will be announced at the annual awards gala in Palm Springs, California, on November 14, 2015. The awards are the culminating event of the EY Strategic Growth Forum®, the nation's most prestigious gathering of high-growth, market-leading companies.
About Grandeur Peak Global Advisors™
Grandeur Peak Global Advisors is comprised of a highly seasoned and collaborative research team taking a bottom-up approach to investing using disciplined global screening, rigorous company due diligence, and close attention to valuation to find what we believe to be the best investment opportunities around the world. Our bias is towards small and micro cap companies because we believe we can find faster growth among these firms, and often at better valuations due to the lack of analyst coverage. Grandeur Peak Global Advisors LLC is an employee-owned investment adviser headquartered in Salt Lake City, Utah and registered with the Securities and Exchange Commission under the Investment Advisers Act of 1940.
About EY Entrepreneur Of The Year®
EY Entrepreneur Of The Year is the world's most prestigious business award for entrepreneurs. The unique award makes a difference through the way it encourages entrepreneurial activity among those with potential and recognizes the contribution of people who inspire others with their vision, leadership and achievement. As the first and only truly global award of its kind, Entrepreneur Of The Year celebrates those who are building and leading successful, growing and dynamic businesses, recognizing them through regional, national and global awards programs in more than 145 cities in more than 60 countries.
About EY's Strategic Growth Markets practice
EY's Strategic Growth Markets (SGM) practice guides leading high-growth companies. Our multidisciplinary teams of elite professionals provide perspective and advice to help our clients accelerate market leadership. SGM delivers assurance, tax, transactions and advisory services to thousands of companies spanning all industries. EY is the undisputed leader in taking companies public, advising key government agencies on the issues impacting high-growth companies and convening the experts who shape the business climate. For more information, please visit us at ey.com/us/strategicgrowthmarkets, or follow news on Twitter @EY_Growth.
About EY
EY is a global leader in assurance, tax, transaction and advisory services. The insights and quality services we deliver help build trust and confidence in the capital markets and in economies the world over. We develop outstanding leaders who team to deliver on our promises to all of our stakeholders. In so doing, we play a critical role in building a better working world for our people, for our clients and for our communities.
EY refers to the global organization, and may refer to one or more, of the member firms of Ernst & Young Global Limited, each of which is a separate legal entity. Ernst & Young Global Limited, a UK company limited by guarantee, does not provide services to clients. For more information about our organization, please visit ey.com.
RISKS: Investing involves risks and loss of principal is possible. Diversification does not eliminate the risk of experiencing investment loss. Investing in small and micro cap funds will be more volatile and loss of principal could be greater than investing in large cap or more diversified funds.
Investing in foreign securities entails special risks, such as currency fluctuations and political uncertainties, which are described in more detail in the prospectus. Investments in emerging markets are subject to the same risks as other foreign securities and may be subject to greater risks than investments in foreign countries with more established economies and securities markets.
An investor should consider investment objectives, risks, charges, and expenses carefully before investing. To obtain a Grandeur Peak Funds prospectus, containing this and other information, visit http://www.grandeurpeakglobal.com or call 1-855-377- 7325. Please read it carefully before investing.
Grandeur Peak Funds are distributed by ALPS Distributors, Inc. Grandeur Peak Global Advisors and EY are not affiliated with ALPS Distributors, Inc.
GPG000375 EXP 06/30/2016